Cats And Dogs, Living Together: DC Fans Launch Petition For Zack Snyder To Direct 'The Batman'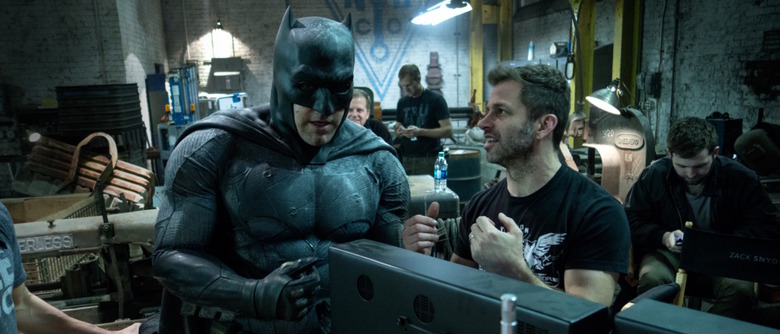 I like Zack Snyder. That needs to be said first. His Dawn of the Dead remake is a superbly constructed, savvy joy. 300 is so much more interesting and beautiful than you remember. Watchmen is flawed but audacious, tackling un-adabtable source material with raw nerve and bravery. Sucker Punch is a disaster, but it's the kind of well-intentioned disaster I can completely get behind. Man of Steel is one of the most handsome blockbusters ever made and the stuff that infuriates me also fascinates me.
It brought me no joy when it turned out Batman v Superman: Dawn of Justice was total rubbish and one of the most disappointing movies I've ever seen in a movie theater. I want him to succeed! And I also want him to move on and leave DC superheroes behind, because it's increasingly clear that he doesn't gel with them. However, some fans disagree as they have launched a petition calling for Snyder to helm The Batman now that Ben Affleck has vacated the director's chair.
When Change.org was founded in 2007 with the mission of "[empowering] people everywhere to create the change they want to see," its creators surely didn't imagine it being used to create a Zack Snyder Batman Petition. But here we are. This is a thing that has happened and everyone involved should be ashamed of themselves. This paragraph in particular caused a blood vessel in my brain explode into gory bits. I am bleeding out on the floor. I am dying. Daaaisy...
Finally, there's his style, visually and tonally. He's created a beautifully dark DCEU, and populated it with characters and stories who fit the narrative perfectly. Some may not care for the darkness he's brought to the founders of the Justice League, but I would advise those people to read more comics. Batman is an incredibly dark character (they don't call him The Dark Knight for nothing, you know), and Snyder's unique vision for his films is perfect for the tragic tale of Bruce Wayne – even more so for this Bruce Wayne, the harder, more vengeful version he becomes after the death of Jason Todd. His world simply isn't a light and happy place. Gotham City seems to live entirely by night (no pun intended), and this makes him a perfect fit.
I guess if I read more comics, I'd know that Batman is only a dark and serious character with no room for anything beyond brooding and violence and Batcave Crossfit. I guess we need to read more comics, guys. Geez. Maybe that's the problem.
Hilariously, one of the featured tweets below the petition comes from my friend Scott Wampler, a writer at Birth Movies Death, and he took the words right out of my mouth:
It takes something really special to render me speechless. This did the job. https://t.co/Yo7YmKaeOv

— Wampler™ (@ScottWamplerRIP) February 2, 2017
I can think of approximately one person in my life who would be excited by Snyder directing The Batman and that is /Film's own Angie Han. Her love for Batman v Superman is genuine and we have had many conversations about its, well, interesting choices. I will say this much: a Snyder-directed Batman movie would surely give me more to talk about than a mediocre film helmed by someone with a less distinctive voice. I'll give everyone who signed that petition that much.
Zack Snyder is still directing Justice League, which is due out on November 17, 2017. I'm doing my damnedest to remain optimistic about it. In the meantime, here are 27 other people who should direct The Batman.