Michael Bay Is Saying Farewell To 'Transformers' With 'The Last Knight'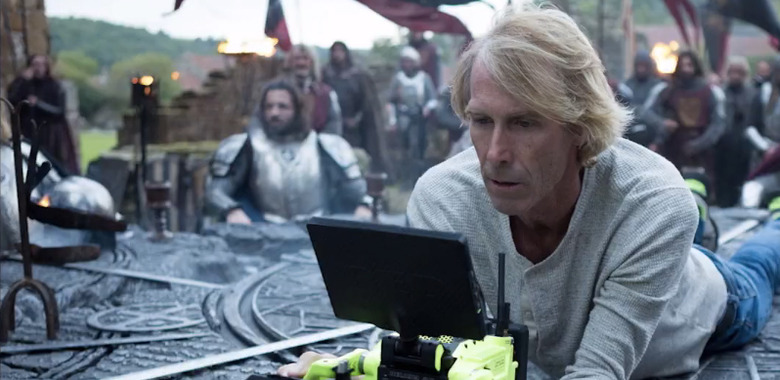 For years now, Michael Bay has threatened/teased that each new Transformers sequel he directs could be his last. But here we are with Transformers: The Last Knight arriving this summer, his fifth film in the toy franchise. However, this time rather than offhandedly mentioning that this might be his last round with the robots in disguise, Michael Bay took the time to write a letter to fans on his official website. So it sounds like Michael Bay leaving Transformers may truly become a reality.
Here's the letter that Michael Bay posted to
his official website last night
:
I've been living in this franchise for over 10 years now. For Transformers: The Last Knight, we put together a writers' room designed to greatly expand our mythology, integrating our films in a whole new way. Every movie will interlink.
It was a huge task to expand mythology from the beginning of the world throughout history. We had a great team of writers: Akiva Goldsman (A Beautiful Mind); Art Marcum & Matt Holloway (Iron Man); Ken Nolan (Black Hawk Down); Zak Penn (Ready Player One); Lindsey Beer (Barbie); Geneva Robertson-Dworet (Tomb Raider); Christina Hodson (Bumblebee); Steven DeKnight (Daredevil, Smallville); Jeff Pinkner (The Amazing Spider-Man 2, Lost); and Andrew Barrer & Gabriel Ferrari (Ant-Man).
Through the summer of 2015, they worked in a huge space on the Paramount lot, surrounded by over 10,000 concept images from the franchise's history: the movies, cartoons, and comic books. They had a life-size Bumblebee, a Megatron head, and many other props staring them down. We pulled from everything. It was a fan's dream room.
We brought in Transformers historians from Hasbro to educate them on where Transformers has been – so that they could figure out where it can go.
I can safely say that there's never been a Transformers film with the huge visual scope and expansive mythology as this movie, The Last Knight.
It's bittersweet for me. With every Transformers film, I've said it would be my last. I see the 120 million fans around the world who see these movies, the huge theme park lines to the ride and the amazing Make-A-Wish kids that visit my sets, and it somehow keeps drawing me back. I love doing these movies. This film was especially fun to shoot. But, this time might really be it. So I'm blowing this one out.
Oh, that Michael Bay. Even when he writes his own letter, he can't help but still leave it open ended when he writes, "But, this time might really be it."
Despite all the bashing of the movies out there, you can't deny that Bay has plenty of fans who eat up every explosion and convoluted story he has to offer, especially when it comes to Transformers. But now that there's an entire writers room planning a slew of movies in the Transformers universe, I think it's about time we see what another director can do with this property. After all, we all know what to expect from a Michael Bay-directed Transformers movie, and I'd like to be surprised by what another filmmaker might bring to the table.
In addition, I think it's about time we see what else Michael Bay has up his sleeve. Pain & Gain was a thoroughly interesting piece of Bay's filmography, and even 13 Hours was a decent entry for him as a director. I'd like to see what other movies Bay can chrun out while he's still in his prime (no, that's not an intentional Transformers pun).
Transformers: The Last Knight reteams Michael Bay with Mark Wahlberg, and it also brings back franchise stars Stanley Tucci, Josh Duhamel and John Turturro. New cast members include Isabela Moner, Laura Haddock, Liam Garrigan, Jerrod Carmichael, Mitch Pileggo, Santiago Cabrera and Anthony Hopkins.
For more from Transformers: The Last Knight, check out our set visit reports
and
. Watch the
, and the Super Bowl spot
.
Transformers: The Last Knight hits theaters June 23, 2017.