Watch: 'The LEGO Batman Movie' Gives Us A Gotham City Version Of MTV's 'Cribs'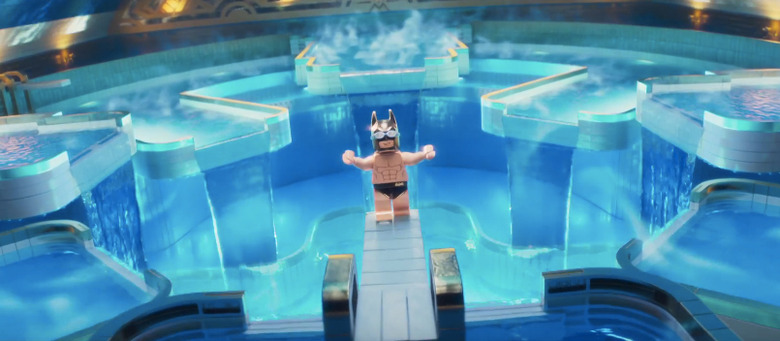 Next week we finally get the joy of watching The LEGO Batman Movie unfold brick by brick before our very eyes. Everything we've seen from this movie promises to be a fantastic spin-off of The LEGO Movie from a few years back, just with a bit of a flair that only The Dark Knight (as voiced by Will Arnett) can offer.
Leading up to the release of the movie, Warner Bros. Animation has been releasing some awesome marketing materials, like the behind the scenes featurette from within the world of LEGO Gotham City. Now we get one more video from the LEGO universe in the form of a segment inspired by MTV's Cribs, featuring Bruce Wayne (who totally isn't Batman) and Batman (who totally isn't Bruce Wayne) giving us a tour of their mansion.
Watch The LEGO Batman Movie Cribs segment after the jump.
What's cool about this video is that this this isn't even a scene from the movie. We reached out to Warner Bros. Animation about this video and were told that this is custom animation made specifically for the marketing of the movie. They merely had the team who animated the film use the same models and characters/locations as the film to create something completely new.
How awesome would it be to get your hands on those digital materials in order to make your own LEGO Batman movie? You may not have the rich voice of Will Arnett to make it all come together the right way, but it would still make for a cool digital playground to create some fun LEGO scenes. It would be like playing with a massive LEGO set that doesn't cost you thousands of dollars and a whole room in your house.
Joining Will Arnett as LEGO Batman, the voice cast includes Michael Cera as Robin, Zack Galifianakis as The Joker, Ralph Fiennes as Alfred Pennyworth, and Rosario Dawson as Barbara Gordon, Billy Dee Williams as Two-Face, Jenny Slate as Harley Quinn, and Mariah Carey as Mayor McCaskill.
The LEGO Batman Movie hits theaters February 10.
In the irreverent spirit of fun that made The LEGO Movie a worldwide phenomenon, the self-described leading man of that ensemble—LEGO Batman—stars in his own big-screen adventure. But there are big changes brewing in Gotham, and if he wants to save the city from The Joker's hostile takeover, Batman may have to drop the lone vigilante thing, try to work with others and maybe, just maybe, learn to lighten up.