'Robin Hood: Origins' Will Be The 'John Wick' Of Bow-And-Arrow Action, Says Producer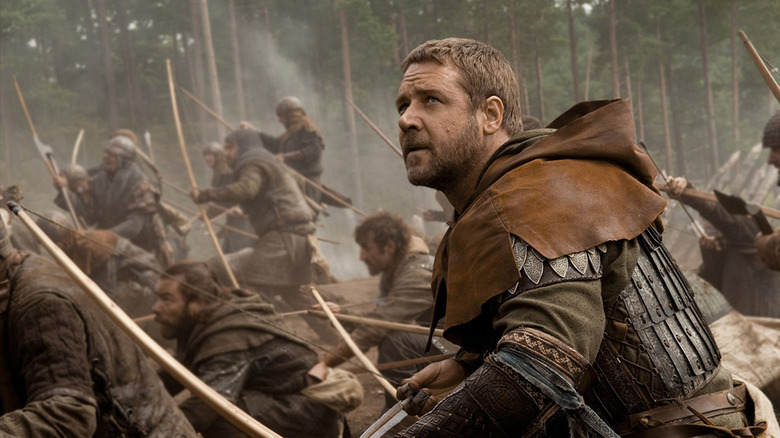 We've seen quite a few Robin Hood films. The last one, which Sir Ridley Scott directed, was grim and serious and didn't have the greatest sense of adventure. There wasn't much bravura or spirit to that 2010 film, but the producer behind Robin Hood: Origins, which stars Taron Egerton, describes the next depiction of the character as a much more livelier affair — partly because it was inspired by John Wick.
Below, get some Robin Hood: Origins story details.
In addition to the Kingsman star, director Otto Bathurst's (Peaky Blinders) film features Ben Mendelsohn (Bloodline) as the Sheriff of Nottingham, Jamie Foxx (Django Unchained) playing a "battle-hardened" Little John, Eve Hewson (The Knick) as Maid Marian, and Jamie Dornan (Fifty Shades of Grey) as Robin Hood's half brother Will Scarlett.
In Joby Harold's (King Arthur: Legend of the Sword) script, Robin Hood returns home from the Crusades to discover what's happened to his beloved home, Sherwood Forest, now corrupted by the rich and powerful. The soldier assembles a group of outlaws, Merry Men, to fight back.
Producer Basil Iwanyk (who also worked on John Wick: Chapter 2) told Collider that John Wick inspired some of the stunt work we'll see during Robin Hood's fights:
The images of Robin Hood, the imagery we have, the production design, the stunt work that we're doing—a lot of it was inspired by the John Wick stunt work. The stuff we're doing with the bow and arrow, it's the same thing that Keanu does with the gun. The costumes, it just feels different than any other Robin Hood we had.
Robin Hood as the Baba Yaga of Sherwood Forest? That doesn't sound too bad. But are impressive stunts the only thing that this new take on Robin Hood is bringing to the table? Iwanyk doesn't think so. He believes there's a youthful quality to the film that'll make it stand out:
Exempting the killer cast, I feel that it captures the adventure and the fun and the spirit of Robin Hood, but because it's the origin story—it's a kid going off to war thinking he's going on a great Crusade, and realizing it's all bullshit and coming back with some PTSD and realizing he's been lied to, and coming back to kind of a fractured society that doesn't really accept him and realizing, 'Okay the super rich are getting richer, and the poor are getting poorer.' You could describe that now. What Joby Harold, our writer, was able to do is make it feel very allegorical and very contemporary, and feel youthful but not youthful in a YA way, youthful in a kind of, the anger, the energy, what people when they were 25 feel, without it being pandering like 'Look, we're the young version of the movie!'
Robin Hood: Origins sounds like a much more modern take on the story than Ridley Scott's film, especially thanks to the John Wick influence. Crazy bow and arrow action probably isn't what most people expect from action scenes in a Robin Hood film. Perhaps cranking up the bow and arrow action a few notches will help bring a freshness to this old story.Robin Hood: Origins opens in theaters March 23rd, 2018.