'The Snowman' First Look Reveals Michael Fassbender As A Norwegian Detective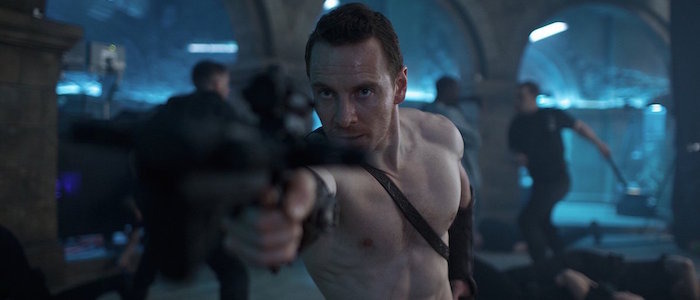 Nothing can stop Michael Fassbender. Assassin's Creed is a box office bomb? He'll still headline major movies. Steve Jobs becomes one of the most criminally overlooked movies of the past few years? He'll get an Oscar nomination. X-Men: Apocalypse is an incredible disappointment? He'll still make each and every one of his scenes sing because he's pretty darn great at that acting thing. So yeah, I'll take a look at Michael Fassbender as Norwegian detective Harry Hole in Tomas Alfredson's upcoming film adaptation of the novel, The Snowman.
Okay, you're allowed to snicker about that name for the next few seconds, because Harry Hole is pronounced "Harry Hoo-leh," you animals. Created by Norwegian author Jo Nesbø, Hole is an unorthodox and unpredictable detective who has starred in ten novels so far, with an eleventh due out this year. The Snowman, originally published in 2007, is the seventh book in the series and finds Hole searching for a missing woman after her scarf is found wrapped around a snowman.
The first image of Fassbender in character come from the latest issue of Total Film (via The Film Stage) and you can check them out for yourself by clicking that link. As you'd expect, Fassbender makes "brilliant, disheveled, alcoholic detective who solves crimes against a snowy backdrop" look real good.
Although we've yet to see a trailer for the film, Fassbender did recently speak about The Snowman with Digital Spy, explaining that Hole isn't a typical movie detective here (he gets his ass kicked in fight scenes, for starters):
It's got that Scandi-noir element to it, for sure. I think it's going to be very rich. I love working with Tomas Alfredson. He's an absolutely great filmmaker. And I think it's going to be scary, and I think it's going to be edge-of-the-seat stuff. I like it because Harry Hole's a very flawed genius in his department of work. He's an excellent detective. But he kind of goes off the rails. He's very human in terms of—Let's say, if there was a fight sequence with somebody. He's not Jack Reacher. He comes off the worse for wear a lot of the times in these encounters. And I like that. There's something kind of funny about that. I find that there's really comical elements there.
While Michael Fassbender solving mysteries is an exciting hook, The Snowman also marks the long-awaited return of director Tomas Alfredson and that is a cause for celebration. Alfredson broke thorough with 2008's incredible vampire film Let the Right One In and followed it up with (the seemingly impenetrable but ultimately unforgettable) Tinker Tailor Soldier Spy in 2011. And after a six-year break, he's back and I can't wait to see him apply his icy touch to a murder mystery. Honestly, I'm not even annoyed that this was going to be a Martin Scorsese movie at one point. That's how much I like Alfredson's work.
The Snowman also stars Rebecca Ferguson, J.K. Simmons, Chloë Sevigny, Charlotte Gainsbourg, Val Kilmer, James D'Arcy, and Toby Jones. It will open on October 13, 2017.