Netflix's 'Maniac' Will Bring Together Emma Stone, Jonah Hill, And Cary Fukunaga This Summer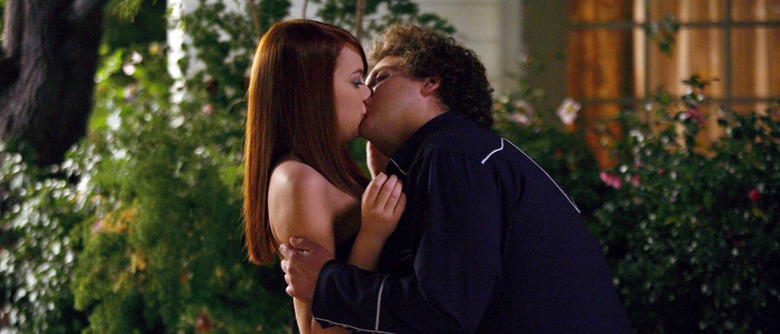 Director Cary Fukunaga may have left HBO's True Detective after its acclaimed first season, but he's definitely not done with television. About a year ago, we heard he was getting the pieces in place for Maniac, a dark comedy to star Emma Stone and Jonah Hill, and now it's moving full speed ahead with a start date and everything. Get more details on Maniac, including a slew of plot details, below. 
Deadline reports Maniac will start shooting August 15 in New York City. Filming is expected to continue for about three months, wrapping shortly before Thanksgiving. Fukunaga will direct all ten episodes, just as he did with True Detective's stylish and moody first season. Patrick Somerville (The Leftovers) wrote the script. Paramount TV and Anonymous Content are producing. With such big-name talent involved, it's no wonder Paramount is looking to move forward sooner rather than later, and the trade reports that studio chairman Brad Grey personally spoke to Hill and Stone to ensure they'd line up their schedules for Maniac.
Based on a 2014 TV series from Norway, Maniac will star Hill and Stone as two characters living out dreamy fantasy lives. In truth, though, they're patients living in a psychiatric ward, where they are being treated for their disconnect from reality.
No doubt Fukunaga will want to put his own stamp on the premise, but here's the trailer for the original Norwegian series to give you an idea of its off-kilter vibe.
Neither Hill nor Stone are entirely new to television, but Maniac will be the first regular live-action TV role in about ten years for both of them. (Hill previously starred in Oxygen's Campus Ladies, and Stone was on the short-lived Drive.) Fukunaga built his reputation on films like Sin Nombre and Jane Eyre before making his small-screen directing debut with True Detective. In between True Detective and Maniac, he returned to film for Beasts of No Nation.