'The LEGO Batman Movie' Clips: Robin Becomes A Master Builder, Gleams The Cube & More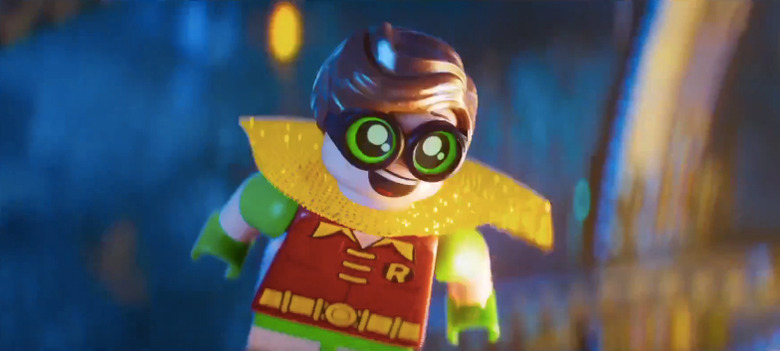 Now that it's officially February, we just nine short days away from seeing The LEGO Batman Movie in theaters. And since Ben Affleck recently dropped out of directing The Batman for Warner Bros. Pictures and DC Entertainment, it's about the only Batman project we're still pumped for right now.
In the last marketing run leading up to the film's release next week, Warner Bros. Animation has released a batch of new clips from The LEGO Batman Movie, two of which prominently feature Michael Cera as Robin (discovering the Batcave and partaking in some kind of heist with LEGO Batman) and the other of which features a confrontation with the Joker (Zack Galifianakis) and Batman himself (Will Arnett).
Watch The LEGO Batman Movie clips after the jump.
This looks like it's going to be every bit as good as The LEGO Movie and maybe even better. The dynamic between Batman and Robin in this one looks like it's going to be hilarious, with the Boy Wonder being full of such endless glee. Plus, you can't go wrong with a reference to "gleaming the cube" from Batman.
What I'm mostly curious about though is what the movie will give Zack Galifianakis to do as the Joker. He's got a great voice to play the villain, but we also know that the roster of Batman's nemeses will be rather big in this movie, so he might take a back seat to a large ensemble of bad guys. Some of them will likely be voiced by cameos yet to be revealed, not unlike the Justice League in The LEGO Movie (who will probably pop up again this time too).
Otherwise, the voice cast for The LEGO Batman Movie features the voice talents of Ralph Fiennes as Alfred Pennyworth, and Rosario Dawson as Barbara Gordon, Billy Dee Williams as Two-Face, Jenny Slate as Harley Quinn, and Mariah Carey as Mayor McCaskill.
In the irreverent spirit of fun that made The LEGO Movie a worldwide phenomenon, the self-described leading man of that ensemble—LEGO Batman—stars in his own big-screen adventure. But there are big changes brewing in Gotham, and if he wants to save the city from The Joker's hostile takeover, Batman may have to drop the lone vigilante thing, try to work with others and maybe, just maybe, learn to lighten up.
The LEGO Batman Movie opens in theaters February 10.