Johnny Knoxville Is Planning A Trip To 'Action Park'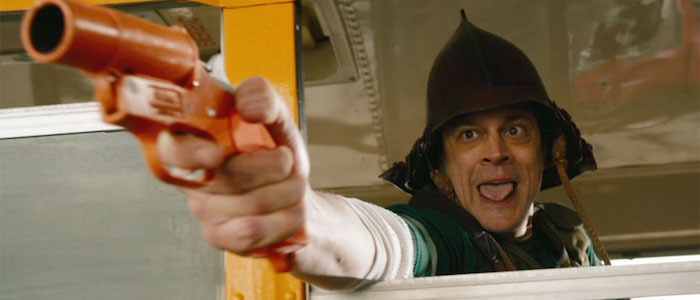 I was never a huge fan of Jackass, but I'd be lying if I said I didn't get it. Because I totally get it – there's something special about performers who are literally willing to put their personal safety on the line for a gag and there's an invisible cord connecting the Jackass crew to the likes of Buster Keaton and Harold Lloyd. They literally suffered for their art, pushing themselves to physical extremes for the sake of a laugh. It's stupid and insane and immature and it may, somehow, loop back around on itself and become high art.
So the news that Jackass headliner Johnny Knoxville is planning a movie that will involve him getting battered by unsafe theme park rides has me intrigued, mainly because I wonder with morbid curiosity if this will be the project that finally does him in.
The film in question is called Action Park and The Hollywood Reporter notes that it "...imagines what would happen if Knoxville and his cohorts irresponsibly designed and operated their own theme park." Tim Kirkby, a television veteran with credits that include Fleabag, Veep, and Brockmire, will direct. Knoxville wrote the screenplay alongside Dave Krinsky and John Altshuler.
What's not clear is if this will be a full-on Jackass-style production, with most of the set pieces built around people punishing themselves for sake of your amusement, or if there will be an actual plot connecting everything. What is clear is that the title is a reference to Action Park in Vernon, New Jersey, a waterpark that was infamous for its unsafe rides, its untrained staff, and the amount of alcohol available for sale on property. The park claimed six lives before it eventually closed. It has since re-opened under a different name.
Still, if you talk to anyone in their late 30s who grew up in the New Jersey area, you're bound to hear some Action Park stories. While their tales of attractions that felt barely tested and left you battered and bruised will fill you with horror, there's an undeniable nostalgia in their eyes. Action Park is a relic of a time when childhood wasn't so safe. Action Park didn't coddle you – it wanted to destroy you. Like with Jackass, I can honestly say that I get it.
Since we don't know much more about the Action Park movie or what Knoxville and his team are actually planning, you should go ahead and watch this short documentary about the real Action Park, because holy hell how did this happen?