VOTD: 'Moonlight' Director Raids Criterion Collection's Closet Of Cinema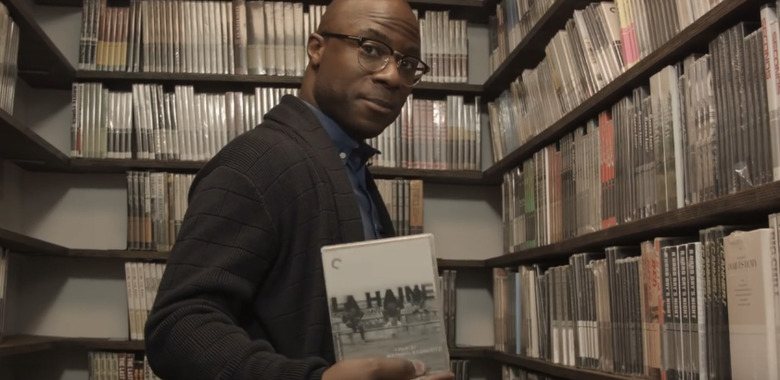 It's been a hell of a year for director Barry Jenkins. The filmmaker has been getting all sorts of acclaim for his powerful coming of age drama Moonlight, which was just nominated for Best Picture last week. Jenkins himself also landed a nomination for Best Director, which isn't a bad accomplishment for his sophomore effort behind the camera.
With the Academy Awards less than a month away, and Moonlight getting plenty of nominations at various awards ceremonies, Barry Jenkins has been making all sorts of publicity rounds (including the usual roundtable interviews with the major awards contenders in the directing arena). One of his more recent appearances will be something that cinephiles who have a fondness for the Criterion Collection will enjoy quite a bit. Check it out after the jump.
Watch to find out what Barry Jenkins Criterion Collection picks are
It turns out when Criterion Collection really likes a director, they let them into their personal library so they can pick out whatever titles they want to take home for their own collection. Here's what Barry Jenkins chose from the Criterion Collection closet:
Ingmar Bergman's Fanny and Alexander
Satyajit Ray's The Apu Trilogy
Andrew Haigh's Weekend
John Cassavetes: Five Films
Krzysztof Kie?lowski's Dekalog
Mathieu Kassovitz's La Haine
Joel Coen's Blood Simple
Catherine Breillat's Fat Girl
Mira Nair's Monsoon Wedding
Lynne Ramsay's Ratcatcher
David Gordon Green's George Washington
Akira Kurosawa's Rashomon
The Essential Jacques Demy
The Complete Jacques Tati
That's a great line-up of films to add to any home video collection. Maybe one day Barry Jenkins' Moonlight will be in that library and some other up and coming director will take it home for their collection. Moonlight would certainly be a fine fit for the Criterion Collection, and if you haven't seen it yet, it's still playing in theaters around the country, so go out of your way to check it out before the Academy Awards air on February 26.
A timeless story of human connection and self-discovery, Moonlight chronicles the life of a young black man from childhood to adulthood as he struggles to find his place in the world while growing up in a rough neighborhood of Miami. At once a vital portrait of contemporary African American life and an intensely personal and poetic meditation on identity, family, friendship, and love, Moonlight is a groundbreaking piece of cinema that reverberates with deep compassion and universal truths. Anchored by extraordinary performances from a tremendous ensemble cast, Jenkins's staggering, singular vision is profoundly moving in its portrayal of the moments, people, and unknowable forces that shape our lives and make us who we are.