'Lord Of The Rings' Mini-Reunion: A King, An Elf And Some Hobbits Walk Into A Diner [POTD]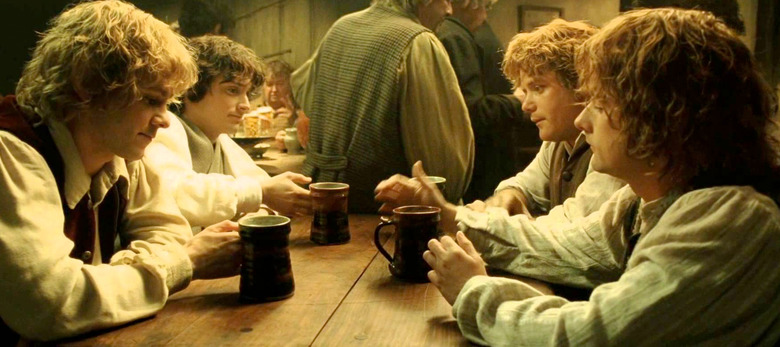 This past December marked the 15th anniversary of Lord of the Rings: The Fellowship of the Ring, the first chapter in one of the greatest film trilogies of all time. Since that's not exactly a celebratory, milestone anniversary, there wasn't much pomp and circumstance. But a little over a month later, a mini-reunion of some of the members of the fellowship has taken place.
In what appears to be an impromptu reunion, Aragon (Viggo Mortensen), Frodo (Elijah Wood), Legolas (Orlando Bloom), Merry (Dominic Monaghan) and Pippin (Billy Boyd) all got together for a meal, and they took some time to snap a few pictures of the occasion as well. Check out the Lord of the Rings reunion photo after the jump.
Here's the best image that was posted to Dominic Monaghan's Instagram feed:
They have a cave troll. @theoneringnet @electrice @boydbilly @orlandobloom @empiremagazine #squadgoals
A photo posted by Dominic Monaghan (@dom_monaghan_) on
Despite the reference to Boromir's line, "They have a cave troll," from Fellowship of the Ring, Sean Bean sadly wasn't on hand for this reunion. Also missing is Samwise (Sean Astin), Gimli (John Rhys-Davies) and of course Gandalf (Ian McKellen). But the rest of the fellowship looks ready for battle again 15 years later.
If you haven't rewatched The Lord of the Rings trilogy recently, it might be time to set aside a few days to watch them all in a row. It's a near-perfect film trilogy and one of the most satisfying adaptations of classic literature ever put to film. It's a shame The Hobbit trilogy couldn't shake a stick at what was achieved in Middle-earth the first time around.