New Video Teases 'Star Trek: Discovery' Costumes & Sets As Production Officially Begins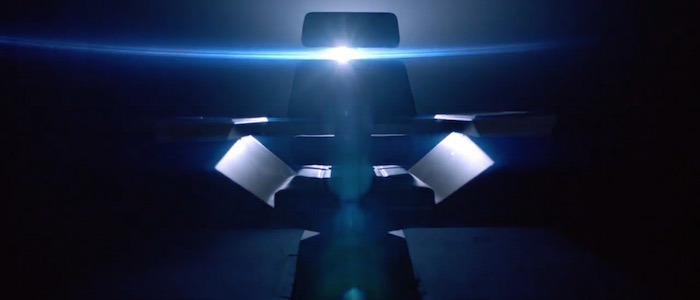 It's been a rough voyage for Star Trek: Discovery, but cameras are now rolling on CBS' grand return to the greatest science fiction series of all time, and I'm ready to start feeling optimistic. And if the goal of this new video, which showcases footage of sets, uniforms, and concept art from the show, was to get me unbearably and unreasonably pumped that another proper Star Trek series is on the way...mission accomplished.
While we don't actually get to see the bridge of the USS Discovery, we do get to see a captain's chair. While don't get to see any of the cast, we do get a glimpse of the new uniforms. While we don't actually get to see any aliens, we do get a peek at some strange metal armor that may or may not be Klingon in origin. And while we don't get to see the Discovery itself, we do get to see some concept art that gives us our best look yet at what the newest Starfleet vessel looks like.
Of course, when I say "newest," I mean new for us. After all, Star Trek: Discovery takes place before the events of the original Star Trek series, a decade before Captain James T. Kirk and the crew of the Enterprise set out on their five-year mission. While Star Trek: Enterprise took us back to the founding of the United Federation of Planets, Discovery has a trickier timeline – it must exist just before one of the most famous and beloved television shows of all time. No pressure.
While the bulk of the cast will be new characters, there will be at least one strong connection to the people we already know: Spock's father, Sarek, will have a role on the series, with James Frain playing the role originated by the late Mark Lenard. As for the newcomers, Sonequa Martin-Green will play Rainsford, the lieutenant commander of the Discovery, with Doug Jones playing alien science officer Saru and Anthony Rapp playing astromycologist Stamets.
In case you want to take a closer look, here are few screenshots from the video. I'm dying to get a complete look at those uniforms.
Meanwhile, Trek Movie is reporting that Maulik Pancholy may have joined the cast, mainly because he's been spotted hanging out with Chris Obi, who plays the Klingon T'Kuvma on the show. Emily Coutts has also been added to the show's IMDB page, but the first rule of internet movie news is that you don't trust everything you see on IMDB.
Star Trek: Discovery doesn't have an air date yet, but it's expected to arrive late this year or early 2018.