The 'Han Solo' Standalone Film Has Begun Filming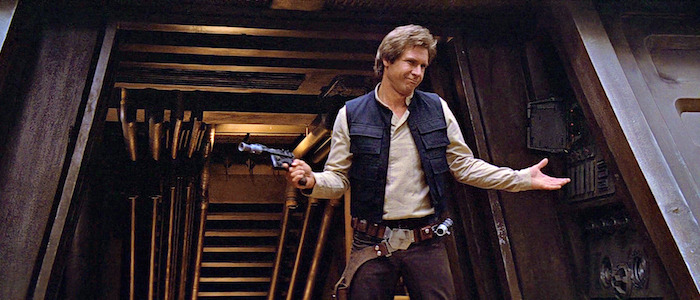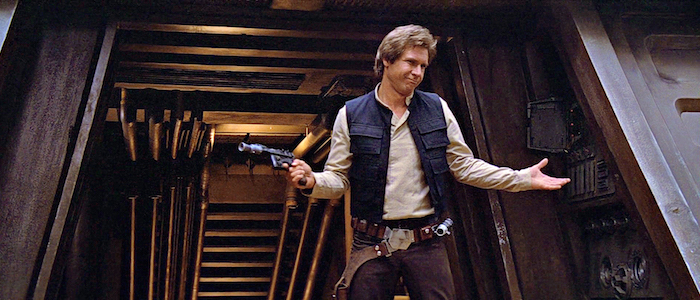 When it rains, it pours. Just as we were finally digesting that the next chapter of the Skywalker Saga will be titled Star Wars: The Last Jedi, that Han Solo spin-off movie begins filming. And just as you'd expect from directors Chris Miller and Phil Lord, the news that cameras were rolling arrived with a terrific and nerdy little joke.
Miller marked the occasion on Twitter, revealing a close-up of a film slate. You'll note that the slate doesn't reveal the film's (still unknown) title, but utilizes the production's incredibly clever fake name: Star Wars: Red Cup. You know...Solo cups. That's a dad joke, but it's one helluva dad joke.
Speaking of jokes, Miller also wrote "Han First Shot," a silly way to say "Hey, we just started filming!" while also referencing the whole "Han shot first" debate that has engulfed fandom ever since the days of the original trilogy special editions.
Han
First
Shot pic.twitter.com/KReR6rgKFT

— Chris Miller (@chrizmillr) January 30, 2017
Miller and Lord are the masterminds behind 21 Jump Street and The LEGO Movie, which is all you need to know to understand that they are geniuses. It's not clear what their Han Solo movie will actually be about, but Lucasfilm's Kathleen Kennedy has called it a "western" and a "heist" movie. Cinematographer Bradford Young, a newly minted Oscar-nominee for Arrival, was bowled over by their pitch:
Well, I'll just say this: that they referenced the right films in the American film lexicon that really touched me in a real tender place. And they mentioned some films that I don't think they knew I had such a really emotional attachment to – and there's one in particular and I'm not going to give it up because it would just tell everything. But there's one in particular that they mentioned in the referential landscape and that one really convinced me that these cats wanted to do something different. Because if you mention that film, it shows that you're brave and that you want to really try to do something different. And so, as soon as they said that, I had to double check, like, "Are you sure? That? You know what they did?" And they're like, "Yeah, that's the film we want to make." And I was like, wow, these cats are brave.
The Han Solo movie stars Alden Ehrenreich as the famed smuggler, Donald Glover as Lando Calrissian, Woody Harrelson as Han's mentor, and Game of Thrones star Emilia Clarke in an unknown role.