Pom Klementieff's Mantis Joins 'Avengers: Infinity War'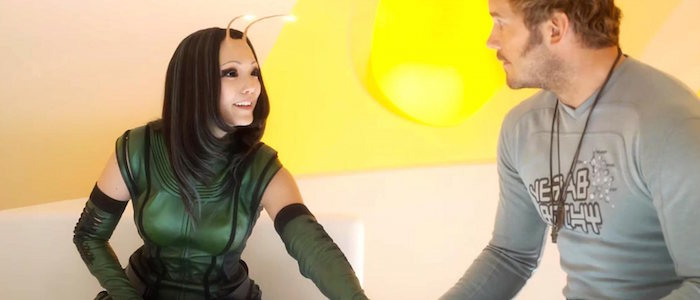 At this rate, it is becoming safe to assume that every single character who has ever played a role in the Marvel Cinematic Universe will have a role in Avengers: Infinity War unless we hear otherwise. The latest character to join the universe-shifting fray is someone we haven't even met yet: Mantis, a new character played by Pom Klementieff in the upcoming Guardians of the Galaxy Vol. 2, has been all-but-confirmed to be a member of the ensemble.
Like so much Marvel movie news these days, we learned this not through an official announcement of some kind, but through social media. Klementieff took to Instagram to share two photos, with the first of them featuring her wearing an Infinity War cast and crew beanie (I do like how the Avengers "A" is worked into title):
A photo posted by Pomin8r (@pomin8r) on
The second of them is a little more intriguing. First, it makes mention of Atlanta, Georgia, where Avengers: Infinity War has apparently begun filming. However, her choice of image is especially intriguing. That's the cover of Avengers #123 (published in 1974, written by Steve Englehart and pencilled by Bob Brown), an issue where the Avengers learn the secret backstory of Mantis. Is Klementieff implying that elements of this issue will make it into the film or is she simply celebrating her newfound Avenger status by posting a cover of a noteworthy Avengers/Mantis storyline?
???? A photo posted by Pomin8r (@pomin8r) on The news that Klementieff has joined the Infinity War line-up comes off a week full of other confirmations. After months of rumors, Karen Gillan confirmed that yes, Nebula will be in the film (which make sense, considering the character's involvement in the original Infinity Gauntlet storyline). Shortly after that, Dave Bautista confirmed that Drax would be in the film, even if he hasn't received a script yet. Jeremy Renner and Elizabeth Olsen, speaking from the Sundance Film Festival, also noted that Hawkeye and Scarlet Witch will join the fray, but they don't have to arrive on set for a few more months.
For a complete list of who is confirmed to be in the film, who is likely to show up, and who will be left behind, our own Peter Sciretta has assembled a complete list that you can peruse right over here. Of course, now we need to update it with this Mantis news...
Avengers: Infinity War is set to open on May 4, 2018.