VOTD: Nicolas Cage Surprises The Audience At Alamo Drafthouse's "C4GED" Marathon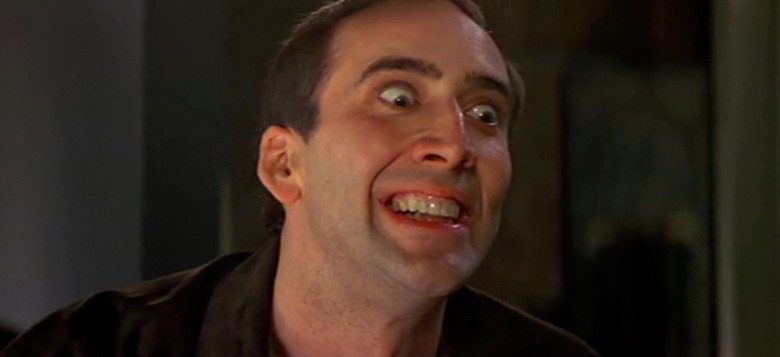 Nicolas Cage is undoubtedly one of the most unique talents working in Hollywood today. Sadly, he's been spending his time making some pretty terrible movies as of late. At the very least those movies feature Nicolas Cage bringing his eccentric acting style to the screen, and sometimes that's entertaining enough.
The folks at the Alamo Drafthouse in Austin, TX have been paying tribute to Nicolas Cage for a few years now with their C4GED marathon celebrating the actor's birth month with a batch of his movies on the big screen. Each year they invite Nicolas Cage so they can sing "Happy Birthday" to him, but he never showed up. But that changed this year at C4GED 4-EVER, the fourth and final iteration of the event.
Watch Nicolas Cage marathon appearance below.
C4GED has been one of the Alamo's most popular screening events in the past few years, featuring five Nicolas Cage movies that are kept secret until they are played in the theater. Cage has been aware of the event for awhile, and he almost made an appearance in 2016, but his schedule didn't allow it. At the time he promised the audience that if the marathon was programmed for another year, he would definitely make an appearance.
Cage actually did something even more special than just showing up since he programmed the line-up of film himself. This year he gave fans Bangkok Dangerous, Joe, Bringing Out the Dead, Army of One and Lord of War, and he even sat in the theater to watch them all with his most loyal fans.
If you'd like even more from this awesome surprise, check out the 47-minute Q&A from the event here:
Say what you will about Nicolas Cage, but this is just awesome.