Which 2017 Super Bowl Trailers Can We Expect Next Week?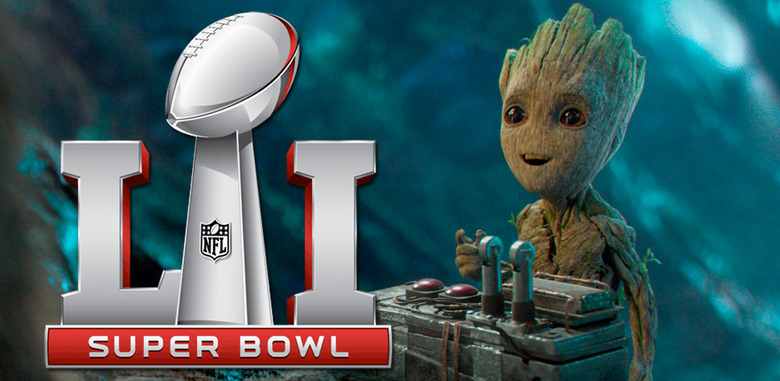 In one week, Super Bowl LI will take over television ratings. Millions of Americans will be glued to the small screen, and while many are interested the big game between the New England Patriots and the Atlanta Falcons, plenty are just interested in the commercials that will take the coveted 30-second spots that cost an average of $5 million this year.
Most of the commercials will be for beer, chips, cars and whatnot, but  there will be some spots pushing some of the upcoming movies of 2017. A couple expected blockbuster spots will be hitting the air, but there may be some surprises as well. So which 2017 Super Bowl trailers can we expect to see?
The full line-up of 2017 Super Bowl movie trailers is unknown, with movie studios mostly keeping their plans under wraps, but Deadline has some idea of what to expect next Sunday.
First up, Disney will push at least two of their big movies. A safe bet would be Guardians of the Galaxy Vol. 2, which is coming in May, but there are rumblings that Pirates of the Caribbean: Dead Men Tell No Tales may reveal some new footage during the big game as well. There's always a chance we could see a spot for Beauty and the Beast and Cars 3 too.
In addition, 20th Century Fox is making a surprising push for A Cure for Wellness from director Gore Verbinksi. That doesn't seem like the best use of a Super Bowl spot, but it will certainly spread the word about the movie to millions who otherwise may not have heard of it before. Otherwise, Fox might also have a spot for Logan or Alien: Covenant, but that hasn't been confirmed.
Paramount Pictures will have a spot during the game, but it's unknown which movie it will be fore. Deadline believes it's Baywatch, which would make sense considering the major demographic of the Super Bowl. But Transformers: The Last Knight could easily make an appearance as well.
Universal Pictures has at least one spot that will play, though no specific titles have been determined. The Super Bowl would be a fine time for The Fate of the Furious to be promoted, or they could spread the word about The Mummy. There's also The Great Wall coming a couple weeks after the Super Bowl and Fifty Shades Darker coming just five days after the game.
Sony Pictures has a spot in the pre-game show, which could easily go to Spider-Man: Homecoming. Or maybe we'll finally get our first look at The Dark Tower. Otherwise, the only other movie that might make sense for a Super Bowl push would be The Smurfs: The Lost Village.
One studio that reportedly will not be promoting any of their movies will be Warner Bros. Pictures, though it's noted that their promotional partners could had ads that might make reference to their movies. For example, last year there was a Turkish Airlines commercial that was tied into Batman v Superman: Dawn of Justice.
We'll be sure to have the 2017 Super Bowl trailer online as soon as they air during the big game, so make sure to stay tuned to the front page when the Super Bowl airs on February 5.