'Trumped' Trailer: Showtime's New Doc Looks At How Donald Trump Won The Presidency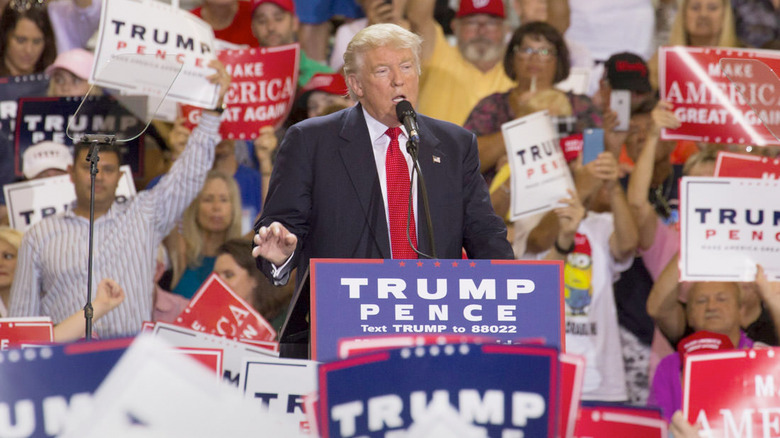 While some would prefer that entertainment and politics stay separated, we live in a world where they frequently intersect. This is even more true when it comes to looking at the genre of documentary films, and a new one that just premiered at the 2017 Sundance Film Festival this past week is certainly going to stir up some heated discussions.
Trumped: Inside the Greatest Political Upset of All Time hails from directors Ted Bourne, Mary Robertson and Banks Tarver, who assembled footage that was originally shot for the Showtime docu-series The Circus, but ended up being used for a feature length documentary film about the 2016 election. Specifically, this documentary focuses on how Donald Trump won by way of a chronicle of his campaign, from the primaries through the debates up until he was elected as the 45th President of the United States of America.
Watched the Trumped trailer after the jump.
If you want to see more from the documentary, here's a clip as well:
Since Trumped debuted at Sundance, we already have some impressions of the film before it arrives on Showtime next month. It sounds like most of it is a retread of what we all watched happen during the lead-up to the presidential campaign and through Trump's actual candidacy and victory. But the appeal might be a somewhat different perspective. Variety calls the film "a sharp, fun, disquieting, and fleetly edited chronicle of the entire campaign year, inside and outside the media bubble, with the focus held obsessively on Donald Trump's rise."
Meanwhile, The Verge wasn't quite as impressed with the film as they wrote this in their review:
"There is no over-arching story or lessons to be gleaned from Trumped. It is simply a beat-by-beat breakdown of some (but not all) of the key events that happened during the 2016 campaign. But it's from an extremely high-level, superficial view, so we see Trump's campaign announcement, stump speeches, and moments from debates and press conferences (you know, the things that most Americans already saw) while everything else is largely left by the wayside. There's no discussion of the alt-right, or the economic forces that made Trump's message appeal to so many. The state of race relations in the United States isn't featured prominently. Former Trump campaign manager Paul Manafort's role is never explored, nor does the film ever really touch upon the campaign's reported connections to Russia. There are several interviews with Trump advisor Roger Stone, who makes so many foreboding comments he comes across as a Bond villain — but even then the film never bothers following up or connecting any dots."
So while there may be hours of footage gleaned for use in this documentary, it sounds like maybe this one doesn't dig nearly as deep as it should. Honestly, since Trump was just inaugurated a little over a week ago, it might be too soon for such a deep, accurate assessment of how he truly ended up winning the presidency. Any attempt to portray that feels hasty and opportunistic, especially when there are so many more important things happening with Trump right this very minute.
Unlike most of the films that premiered and got picked up at Sundance, you'll actually get to see this one very soon. Trumped debuts exclusively on Showtime on Saturday, February 3rd at 9pm ET/PT