Watch The Trailer For Marvel's The Avengers Video Game Coming From Square Enix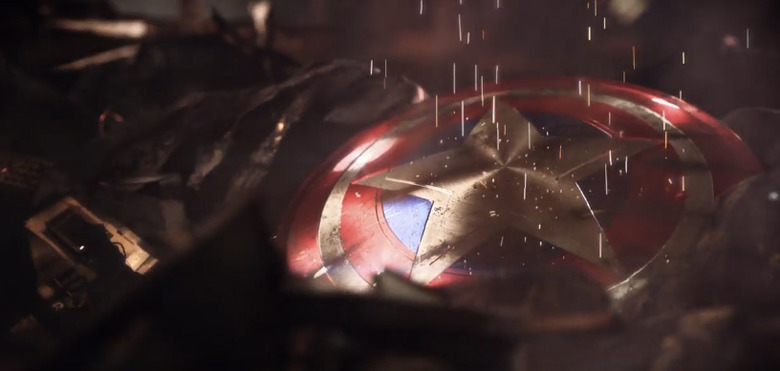 Even though we know there won't be any video games set in the Marvel Cinematic Universe, that's not stopping Marvel Entertainment from taking advantage of their huge roster of comic book characters for some big video game titles.
Today, Marvel Entertainment and video game studios Square Enix announced a multi-year, multi-game licensing agreement to develop and publish original games based on beloved Marvel Comics superheroes, and the first project out of the gate will be The Avengers video game. Find out more after the jump.
Here's the teaser trailer for The Avengers video game:
The announcement was made this morning by way of a press release from Marvel, and here's how they describe the game:
The Avengers project is being designed for gamers worldwide and will be packed with all the characters, environments, and iconic moments that have thrilled longtime fans of the franchise. Featuring a completely original story, it will introduce a universe gamers can play in for years to come.
Perhaps the most interesting part of that description is saying "it will introduce a universe gamers can play in for years to come." That sounds like they plan on releasing tons of new downloadable content for the game long after it's been released. Could we be looking at a sandbox style Avengers video game? Grand Theft Auto V is old news, but they have new DLC all the time, and it would be cool to see that kind of approach to an Avengers video game with new comic book stories and characters added to the mix a few times a year.
Since the game is coming from Crystal Dynamics (Tomb Raider) and Eidos Montreal (Deus Ex), it's not clear what kind of game we're looking at. The announcement says that more details on this game will be announced in 2018 though, and in that same year we'll get even more video game titles from this new partnership announced.
As for the story, the voiceover and shots in the trailer provide some hint of the state of the world. It seems that superheroes have been defeated or banished in some capacity, and there's at least one person who sees that The Avengers need to be reassembled. The question is, who is talking in this voiceover? Could the game have a player follow someone who needs to find all of The Avengers in order to defeat some kind of new threat? We'll have to wait until next year to find out.
In the meantime, here's the standard publicity fluff from the announcement, beginning with a statement from Jay Ong, Senior Vice President, Games & Innovation, Marvel Entertainment, who says:
By partnering with Crystal Dynamics and Eidos-Montréal, we are now working with two of the industry's most talented and respected game development studios to bring Marvel stories to life in ways our fans have never experienced. The Avengers project is a perfect example of how Marvel is making games a key part of the landscape for Marvel storytelling, alongside comics, television and film. We can only do this by matching our greatest Super Heroes with the world's top developers, such as the creative minds at Square Enix.
Adding their own two cents is Phil Rogers, CEO, Square Enix Americas and Europe, saying:
Marvel's diverse, innovative universe has created millions of longtime fans, including all of us. It's exciting to bring together Square Enix's award-winning development studios with Marvel's extraordinary storytellers to establish a new entertainment powerhouse.  This collaboration of passion and talent will craft epic, imaginative experiences allowing gamers to live out their Super Hero dreams like never before.
We'll have to wait and see if The Avengers video game is something worth getting excited about as time goes on. Between this news and the forthcoming Spider-Man game for PlayStation 4 and Marvel vs Capcom: Infinite on the way, it's a good time to be a Marvel fan and a gamer.