'John Wick: Chapter 2' Clip: Keanu Reeves Suits Up For Some Ass-Kicking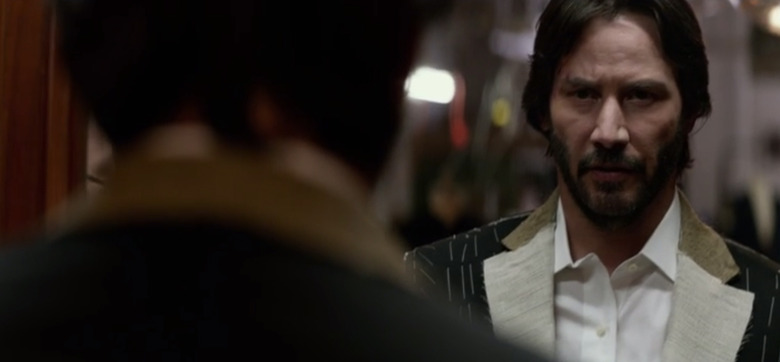 We're about two weeks away from having Keanu Reeves unleashed on the big screen again as everyone's new favorite assassin, John Wick. After the first film made quite a splash in the action genre back in the fall of 2014, a sequel became a forgone conclusion for Summit Entertainment, and this one looks like it's going to deliver even more great ass-kicking.
But before John Wick heads out into the city to deliver some serious headshots to all his various enemies, he needs a new suit. After all, John Wick has to look like a gentlemen when he's busting caps in everyone's asses, and in a new John Wick Chapter 2 clip, we see him visiting his special tailor for a suit, complete with some tactical touch-ups that will make him look handsome and deadly.
Watch the clip after the jump.
My excitement for John Wick: Chapter 2 is very high, even though it didn't quite make my Top 10 Most Anticipated Movies of 2017, it was still an honorable mention. At the very least, it's the first film of the year that I'm truly excited to see, so that has to mean something.
This time, the film is in the hands of just a single director, Chad Stahelski. His co-director from the first film, David Leitch, is heading off to direct Deadpool 2. Hopefully that doesn't mean John Wick: Chapter 2 is losing some of its bite without the original directing duo. Since Stahelski was set to direct the Highlander reboot not too long ago, it sounds like he's got plenty of skill on his own without collaborative partner David Leitch to help out.
John Wick: Chapter 2 is bringing back some familiar faces from the original movie, including  John Leguizamo, Lance Reddick and Ian McShane. But there are also new faces on the scene as well, such as Laurence Fishburne, Ruby Rose, Riccardo Scamarcio, Peter Serafinowicz and Common. The question is, how many of them will be left standing after the guns have stopped firing?
In this next chapter following the 2014 hit, legendary hitman John Wick (Keanu Reeves) is forced back out of retirement by a former associate plotting to seize control of a shadowy international assassins' guild. Bound by a blood oath to help him, John travels to Rome where he squares off against some of the world's deadliest killers.
See John Wick: Chapter 2 on the big screen on February 10.