'Wolves' Trailer: Don't Let Michael Shannon Near Your College Savings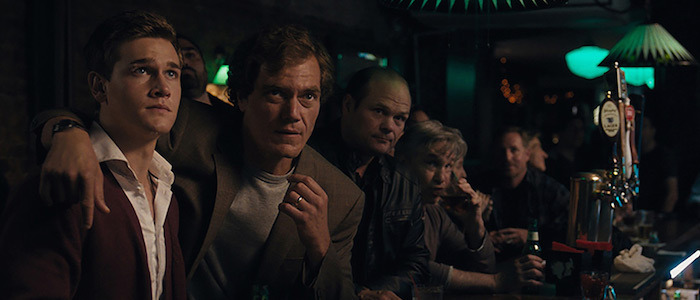 Michael Shannon seems to be playing a familiar type in the new basketball drama Wolves: the father of the talented high school athlete who can't help but stand in his kid's way. He doesn't disapprove of his son's sports career – he just went and gambled away his entire college savings. Whoops.
Anyway, Shannon (one of our finest working actors) is the chief draw in the Wolves trailer, which shows off a sports drama that may contain a little more nerve than your average entry in the genre.
The real star of Wolves is Taylor John Smith, who plays a high school basketball player named Anthony Keller who finds himself being recruited by universities. But it's not an easy road, especially when his father is off burning through that college money and scholarships are hard to come by and he still has to actually win basketball games. The wonderful Carla Gugino is also on hand as Anthony's mother.
Writer/director Bart Freundlich's film premiered at the Tribeca Film Festival last year, but there hasn't been a great deal of buzz (positive or negative) about it since then. It's a perfectly fine trailer and the film seems to showcase the actual hurdles that young athletes face beyond victory on the court, which is a nice change of pace. Plus, who would say no to a new Michael Shannon performance?
Wolves opens on March 3, 2017 in limited theatrical release and on VOD. Here's the official synopsis:
From the famous courts of West 4th Street, to the tenements over looking the bridges of the lower east side, Wolves paints an original, diverse, and emotional portrait of a boy becoming a man in New York City.
18-year-old, Anthony Keller is a high school basketball star. Now in his senior year he is being recruited by Cornell University, a dream come true. Called "Saint" by everyone at his school (St. Anthony's), he does his best to live up to his name. He is captain of his team, a good student, has a long time girlfriend and some good friends. But the ease with which he moves through his life is a facade. At home, Anthony struggles with his troubled Father, Lee Keller, (Michael Shannon) and his gambling addiction. Anthony's Mother, Jenny, (Carla Gugino) has made it her mission to keep the family afloat but has done so only with great emotional and financial sacrifice.
As Anthony approaches the end of his senior year and the city finals, he is faced with adversity from all sides, and the stakes are high. He must find his own definition of what it means to be a man, both on and off the court, and in doing so he is confronted with the decision of a lifetime.