Ryan Murphy Spills Details On That 'American Horror Story' Crossover Season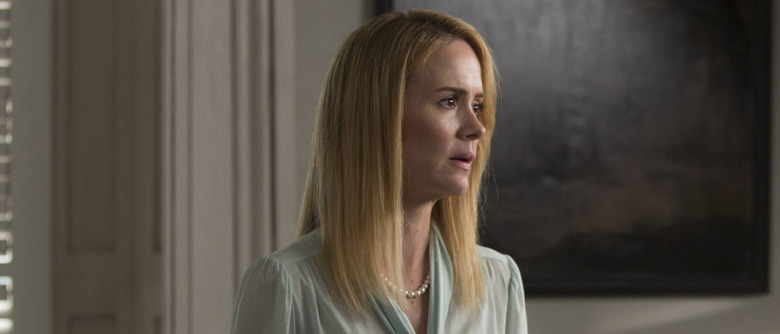 Now that American Horror Story has been renewed for three more seasons, the question is what they plan to do with them. We know that one of the ideas involves a crossover season that will mash up Murder House and Coven (seasons 1 and 3, respectively), and today creator Ryan Murphy has a few more details on what exactly that will entail. 
Plans for the American Horror Story crossover season were first announced last year. "It's not going to be next season, but we are going to do a season that's a crossover between Murder House and Coven together, which is very bizarre," said Murphy at the time. "There will be characters from Murder House and characters from Coven together." Alas, it's still going to be a while before we actually get to see it, since it will not be season seven, which premieres this fall. But he's got plenty of time to make it happen, since FX has already renewed the anthology series through a ninth season to air in 2019.
Now Murphy has spilled new details about the American Horror Story crossover season in a chat with Entertainment Weekly:
It's a character from season 1 that will be thrust into the world that you are left with at the end of Coven, which is sort of like the male/female/witch academy. And then all of those characters will intertwine, which is confusing because some of them are from seasons 1 and 3. Like, Sarah Paulson will probably be playing 18 characters.
That, in a nutshell, is why American Horror Story continues to attract and retain great talent, even as the storylines get increasingly incoherent. Where else is Sarah Paulson going to find a project that lets her play so many different characters? 18 might be an exaggeration, but Paulson has been a part of the show since season one, even playing two different characters at once (conjoined twins) in Freak Show.
Though American Horror Story is an anthology series, in that each new season picks up in a new setting with new characters and new storylines, we've started to see more and more connections between seasons in recent years. Paulson, for example, reprised her Murder House role in Hotel, and her Asylum role in Roanoke — this while also playing completely different, all-new characters in Hotel and Roanoke. Lily Rabe, Naomi Grossman, and Matt Ross have also played characters who have appeared in multiple seasons.