'Arrival' Is Returning To Theaters For A Post-Oscar Nominations Victory Lap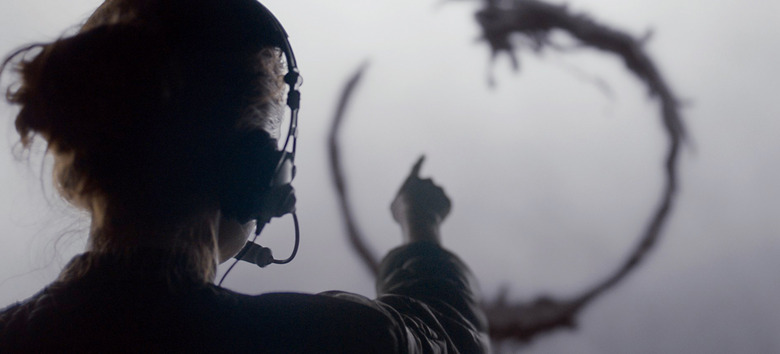 One of the most pleasant surprises to come out of yesterday's Oscar nominations was the amount of love shown for Denis Villeneuve's Arrival, which the /Film staff voted the best film of 2016. Although awards recognition for genre films is becoming more common, "science fiction" is still considered a dirty word at the Academy Awards. The success of Avatar and Mad Max: Fury Road at previous ceremonies still feels like a fluke.
So yeah, it's pretty cool to see Arrival nab eight Oscar nominations and Paramount is giving the film a victory lap by releasing the film back into theaters this weekend.
In the doldrums of January, another chance to see Arrival feels like a relief. The film was already a hit when it was released in November, grossing $95 million against a modest $47 million budget, but another weekend in theaters should allow it to cross that coveted $100 million mark. Hey, if Oscar buzz means more people seeking out and seeing one of the best movies of last year, then I'll never complain about the Oscars ever again.
But they make it so easy to complain, because this will also mean more people will realize that Amy Adams was robbed of a Best Actress nomination. She's the heart and soul of the whole damn movie and as deserving of recognition as everyone else. And considering the news headlines assaulting our sensibilities this week, a movie about a tough, smart female scientist using logic and compassion to prevent total disaster may be exactly what we need.
Here's Paramount's complete press release about Arrival's return to theaters:
On the heels of receiving 8 Oscar® nominations for the acclaimed film ARRIVAL, Paramount Pictures is re-releasing the critically-acclaimed and award-winning film in theatres across the country this 

Friday, January 27

.  The re-release will include exclusive bonus footage featuring thought-provoking commentary and a behind-the-scenes look from Director Denis Villeneuve, Amy Adams, Jeremy Renner, and other cast and filmmakers.  The bonus features, which can only be seen in theatres, shed insight on the filmmaking process and creative vision behind the story.  The film has earned over $170M globally since November.
In addition to its Oscar nominations for Best Picture and Best Director, the AFI, PGA, WGA, SAG, Critics Choice Awards, and National Board of Review have lauded ARRIVAL. The film's star Amy Adams recently received the National Board of Review's Best Actress award, Palm Springs International Film Festival's Chairman's Award and was honored by the 2016 Gotham Independent Film Awards with a career achievement honor.
When mysterious spacecrafts touch down across the globe, an elite team – led by expert linguist Louise Banks (Amy Adams) – is brought together to investigate.  As mankind teeters on the verge of global war, Banks and the team race against time for answers – and to find them, she will take a chance that could threaten her life, and quite possibly humanity.
ARRIVAL stars Amy Adams, Jeremy Renner, Forest Whitaker, Michael Stuhlbarg, and Mark O'Brien. From Paramount Pictures in association with FilmNation Entertainment, Lava Bear Films and 21 Laps Entertainment Production.  Produced by Shawn Levy, Dan Levine, Aaron Ryder and David Linde.  Based on the story, "Story of Your Life" written by Ted Chiang, with screenplay by Eric Heisserer. Directed by Denis Villeneuve.