David Harbour Shares Some 'Stranger Things' Season 2 Details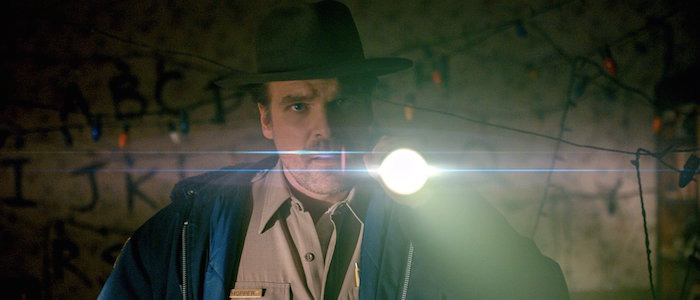 Man, Stranger Things really did come out of nowhere, huh? The Duffer brothers' Amblin-esque, throwback '80s science fiction series went from "another show on Netflix" to genuine cultural phenomenon in about three seconds flat, proving that nostalgia sells...especially when that nostalgia is in service of good storytelling and good characters and so on.
Naturally, a second season is on the way and series star David Harbour has shared some new details.
Although the kids are the real stars of Stranger Things, Harbour was one of the show's anchors in its first season, with his Sheriff Jim Hopper offering the kind of vital, lived-in weariness you only get by hiring a great character actor. He was a guest on the Fan2Sea Comic-Con cruise (via Hollywood Life), where he talked about the second season as part of a cast panel:
It's a year later in the story, so there are several things that happened last year, like Will has come back. There are certain people in the town that know what happened, and then certain people that don't know what happened. So there's a lot of fallout with who knows what.
So there you go: Stranger Things season 2 will take place one year later and will deal with the fallout of the first season. In other words, Stranger Things is still a narrative television show. He also added that series newcomer Sean Astin will play play the new boyfriend of Winona Ryder's Joyce Byers, "...much to the chagrin of the chief of police."
This news arrives shortly after series executive producer Shawn Levy, who directed two episodes of season one and will be back for two more episodes in the second season, described the second season as bigger and darker:
Season 2 is bigger and potentially darker in its stakes. The threat, which in Season 1 was to Will Byers, has grown. That's all I'm going to say! But, I will say Season 2 has a bigger cast and is definitely loyal to the kind of magical storytelling that we established in the first season. It's character-based and still about our core group of characters.
We don't know when the second season of Stranger Things is set to arrive quite yet, but we should see the new episodes sometime in 2017.