Watch Mark Hamill's Reaction To The 'Star Wars: The Last Jedi' Title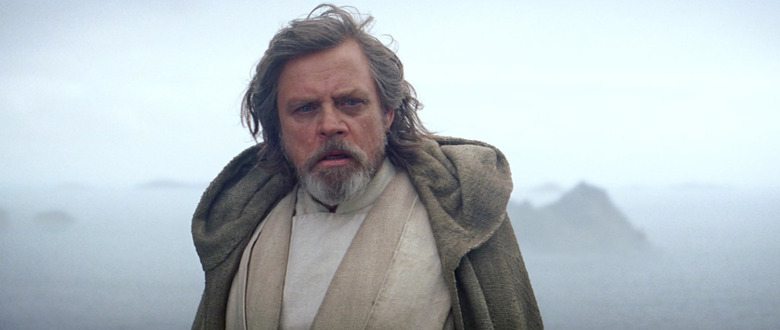 Earlier today, we finally learned the title of Rian Johnson's upcoming Star Wars movie, the sequel to Star Wars: The Force Awakens and the eighth film of the "Skywalker Saga." Finally, we can stop writing Star Wars: Episode 8 and start writing Star Wars: The Last Jedi. Man, that feels good. I'm going to write it again. Star Wars: The Last Jedi. Ooh.
If you want to know how fans are reacting to the new title, you can hit up any number of comments section and Twitter threads (and through my social media window, the response has been mostly positive followed by "But is that a singular or plural Jedi?!"). If you want to know how Luke Skywalker himself, Mark Hamill, reacted to the tile reveal, you'll just have to watch the video below.
To be specific, Hamill is really reacting to everyone else reacting to the title. As he says in the video excerpt from a larger Associated Press interview, he's known the title since they were filming and has had to keep his mouth shut. I wonder just how many times he accidentally let it slip in conversation and then had to beg everyone present to not say anything because he didn't want to get thrown in the Disney gulag. Anyway, everyone involved deserves a pat on the back for their secrecy because The Last Jedi is completely different than all of the "rumored" titles that have emerged over the past year.
And Mr. Hamill is right – there's a definite Samurai ring to the title, which is appropriate for a series that has been very open in its affection for the films of Akira Kurosawa. Meanwhile, you can feel the relief and pride emanating off this tweet from writer/director Rian Johnson like a cloud of steam:
Star Wars: The Last Jedi is scheduled to hit theaters on December 15, 2017.