'Logan' Images: X-23 Unleashes The Fury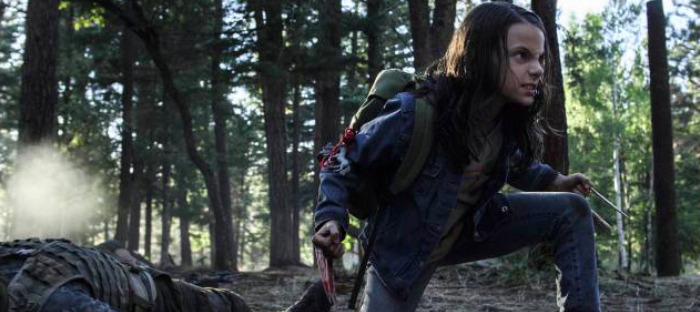 The latest trailer for Logan continued to help make James Mangold's film stand out from the herd. Everything we've seen so far from the R-rated comic book movie implies what Mangold has been saying all along: this isn't your average superhero movie.  Hugh Jackman recently described Logan as a slightly more violent Little Miss Sunshine, which isn't the typical go-to reference for most comic book movies.
Below, check out some new Logan images.
Logan is Jackman's final time playing Logan, who's in rough state in Mangold's film. He's aging, no longer healing fast, and he's cut himself off from the world. He's given a purpose again when he's tasked with protecting Laura (Dafne Keen), a young and powerful mutant who needs his help and may be better known to comic book fans as X-23. The two go on a road trip with Professor X (Sir Patrick Stewart), whose powers have grown dangerous and unpredictable as he battles dementia.
The film co-stars Stephen Merchant as Caliban, Professor X's mutant caretaker who senses other mutants; Boyd Holbrook as Donald Pierce, head of security for the organization known as Transigen; and Richard E. Grant as Dr. Zander Rice, a nefarious scientist working for Transigen.
Here are some new Logan images (Source: Empire), featuring X-23 letting off some steam:
Mangold wanted to ground the film in reality as much as possible. Here's what the director — who first worked with Jackman on the nice and light Kate & Leopold – told Empire about making a superhero movie more tethered to reality:
The idea of a road picture with Logan, Laura and Xavier in an average car was a driving image for me. Taking heroes and putting them in normalcy — and nothing makes them more normal than to cram them into a car and make them have to deal with each other — that seemed the ultimate contradiction of what tentpole movies tend to do.
Mangold believed the movie would work when he cast Keen. The actress looks like she's bringing plenty of blood and emotion to Logan. Our own Angie Han saw the first 40 minutes of the film and said Keen steals every scene.
While speaking with Empire, Jackman told a lovely little story about working with Keen:
I just yelled, 'SHUT THE F*** UP!'" Jackman says. "At the end of 40 minutes of this I went up to Maria, Dafne's mum, and I said, 'Maria, I've got an 11-year-old and I'm just really sorry.' Maria said, 'Aw, don't worry, she just called you a c**t. In Spanish.'
We can expect similar language in Logan, which today was rated-R for "strong brutal violence and language throughout, and for brief nudity." Jackman took a pay cut so he and Mangold didn't have to worry about the story fitting the combines of a PG-13 rating. Based on the red band trailer and images from the film, they're not holding back with the R-rating, either.
Here's Logan's official synopsis:
In the near future, a weary Logan cares for an ailing Professor X in a hide out on the Mexican border. But Logan's attempts to hide from the world and his legacy are up-ended when a young mutant arrives, being pursued by dark forces.
Logan is in theaters March 3rd.