'Golden Exits' Trailer: Emily Browning Sings "New York Groove" For About Two Minutes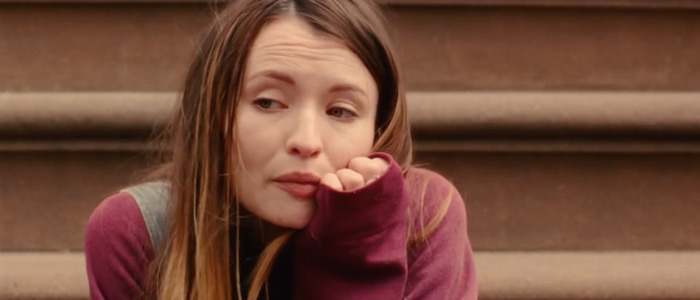 Alex Ross Perry remains a filmmaker to watch, even if he is threatening to make a live-action Winnie the Pooh movie inspired by A.I.: Artificial Intelligence. But before we get to that, we have the first trailer for his fifth feature film as a director. There's not too much in the Golden Exits teaser Perry posted on his own personal YouTube page, but some of you may consider two minutes of Emily Browning singing "New York Groove" to be of interest.
There may not too much to see here, but creating a teaser trailer that consists solely of your leading lady softly singing a song most famously performed by KISS is the exact kind of trolling I'd expect from the guy who made 2014's excellent Listen Up Philip.
The actual plot of the film involves Nick (Adam Horovitz of The Beastie Boys) having having his life turned upside down by the arrival of a new woman in his life (Browning). That's the plot of just about every movie playing at the Sundance Film Festival right now, but I like Perry, so I'll allow it. The supporting cast includes Mary-Louise Parker, Lily Rabe, Jason Schwartzman, Chloe Sevigny, and Analeigh Tipton.
Golden Exits held its world premiere at Sundance yesterday and it doesn't have a distributor yet. However, I'd put a couple of bucks on it getting picked up by someone soon and replicating the low-key success of Listen Up Phillip, which also debuted at Sundance a few years ago.
Here's the description of the film from Sundance:
Nick has settled into a safe existence in a small pocket of Brooklyn, where he currently toils on an archival project for his father-in-law. Soon, 20-something Naomi arrives from Australia to assist Nick for the semester. She has no acquaintances in the city beyond a loose family connection to Buddy, a music producer who lives in the same neighborhood. For the few months she spends around Nick, Buddy, and their families, Naomi's presence upsets the unpleasant balance holding these two households together.
Writer/director Alex Ross Perry (2014's Listen Up Philip) returns to the Festival with another acerbic ensemble, this time exploring the personal torment belying domesticated oblivion. His impressive cast embraces both the dramatic and darkly comedic faces of despair intertwining throughout the incisive script. As with his previous works, Golden Exits is impeccably designed by Perry's regular collaborators: cinematographer Sean Price Williams, editor Robert Greene, and composer Keegan DeWitt.