Martin Freeman Will Appear In 'Black Panther', Drax Confirmed For 'Infinity War'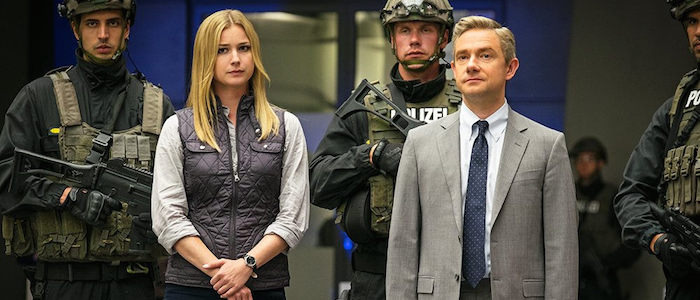 In today's brief round-up of going-ons with the Marvel Cinematic Universe, we have visual proof that Martin Freeman is set to reprise his Captain America: Civil War character in Black Panther and final proof that Drax the Destroyer will have a role in Avengers: Infinity War (even if actor Dave Bautista doesn't have a script yet).
Let's start with that first one. Just Jared has snapped some photos of the Black Panther set in Atlanta, Georgia, with cast members Chadwick Boseman, Danai Gurira, and Lupita Nyong'o among those caught on camera. Also present was Martin Freeman, which confirms the rumors that we've been hearing for some time now: his Everett K. Ross. introduced in Civil War as the Deputy Task Force commander of the Joint Counter Terrorist Center (AKA, a somewhat sleazy government bureaucrat-type) will play a role in Ryan Coogler's film. Whether it's a key role or just a minor appearance to supply some connective tissue between Black Panther and the larger MCU is unknown. At the very least, I hope Freeman has more to do in this one than simply bark orders and vanish for most of the movie.
It makes sense that Ross would play a role in the Black Panther movie. Created by Christopher Priest and Kenny Martinez, Everett Ross was intended to be the surrogate character for white readers who underestimated T'Challa, a guy whose cultural misunderstandings of Wakanda stood in for how Marvel and many of its readers weren't giving the character the respect he deserved.
That brings us to news item number two, which begins with an excerpt from a video interview with Jeremy Renner and Elizabeth Olsen, who say that they haven't read a screenplay for Avengers: Infinity War but are set to begin filming within the next few months:
"Avengers: Infinity War" production begins Monday but @Renner4Real and Elizabeth Olsen don't have a script yet pic.twitter.com/qgLGC4yOf4

— Variety (@Variety) January 22, 2017
And that brings us to this tweet from actor Dave Bautista, who plays the powerful but dim Drax the Destroyer in Guardians of the Galaxy. We've known for sometime that the Guardians will have a role in Infinity War (which will feature just about every significant Marvel movie character introduced so far), but consider this tweet confirmation that Drax is involved. But unlike Renner and Olsen, Bautista begins filming today and he also hasn't seen a script. Take from that what you will.
Welp!!! That makes 3 of us! And I start filming tomorrow! 😱 #MarvelShroudofSecrecy 😖 https://t.co/zBOvqy3h6F

— Vaxxed AF! #TeamPfizer Poor Kid Chasing Dreams. (@DaveBautista) January 22, 2017
Black Panther is set to be released on February 16, 2018. Avengers: Infinity War will arrive a few months later on May 4, 2018.