Disneyland's 'Guardians Of The Galaxy – Mission: Breakout!' Ride Reveals New Details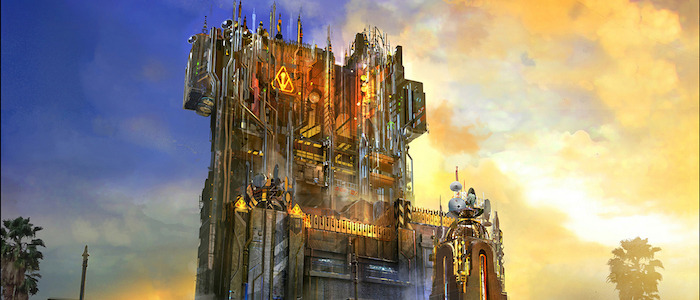 Last year, Disney announced that Disney California Adventure's Twilight Zone Tower of Terror attraction was being shut down and transformed into Guardians of the Galaxy – Mission: Breakout!, a decision that managed to make perfect financial sense while also irritating Disneyland fans who rightfully noted how out-of-place the ride would be in that park. Now that construction is well under way, everyone involved seems to be out to change the narrative surrounding this controversial new attraction, offering an inside look at what we can expect.
We already knew that Mission: Breakout! would be set in the personal museum of Taneleer Tivan, otherwise known as the Collector, otherwise known as the villain played by Benicio del Toro in the first Guardians of the Galaxy movie. Now, thanks to pieces published at IGN and Nerdist, the actual shape of the experience is starting to become clear.
Naturally, everything really begins before you even enter the ride vehicle, with a queue that winds through the Collector's various artifacts. If you think this means lots of easter eggs connected to the Marvel universe, you'd be thinking correctly. In fact, everything written about this queue suggests that Disney, no stranger to detailed waiting areas that reward careful observation, has ensured there will be more than enough to distract you from the fact that you're waiting in a line for a little too long.
Like the original Tower of Terror attraction, the queue will eventually isolate each group of guests in a smaller room where the story details of the ride are laid out. Before, you stepped into the library so Rod Serling could tell you a ghost story. Now, you enter the Collector's office so Rocket Raccoon, who has escaped captivity, can inform you of his plan to break the rest of the Guardians out of the collection. And since this is a theme park ride and every theme park ride storyline is about a well-intentioned plan going thrillingly awry, things will not go smoothly.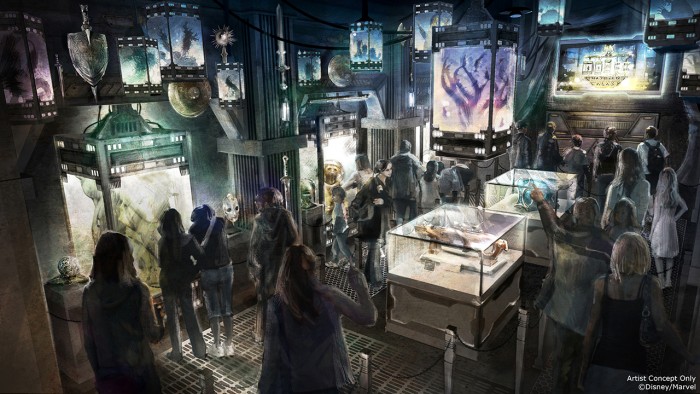 Although the re-theming is extensive, Mission: Breakout! will make use of the existing Tower of Terror ride system, which sends riders flying up into the air before dropping them at speeds that make the stomach quiver. However, Disney Imagineer Joe Rohde promises a "complete, tonal shift" that will have little in common with the slow build-up and sudden release of the original attraction:
This is a comedy, action-adventure, prison break. We need none of that [set-up once on the ride]. We invest immediately in movement... Everything that happens on the ride, from the moment you take off, happens in the context of this very physical chaos. The escape is happening, the other animals are escaping, everything in the collection is loose. The guards are trying to stop them. Rocket is trying to control the vehicle that is out of control because he blew the control tower to open the cages. It's just insane chaos. But really funny, really fun chaos that ensues for the rest of the ride.
Like Star Tours: The Adventure Continues, Rohde says that each ride will be a little different and that fans who want to catch every possible outcome or scene will have to try ride multiple times:
Sometimes the doors might open. Sometimes the doors might not open because something else will happen. Many things will happen on this ride... It's a very dynamic ride.
And yes, the ride will feature a soundtrack torn straight from Star-Lord's Awesome Mix tapes, with different songs coming into play each time you ride.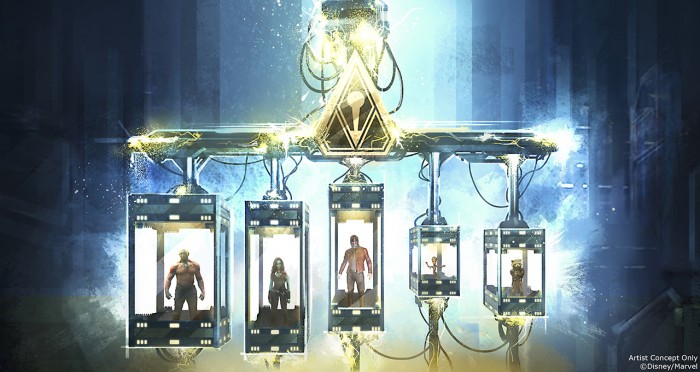 The links above have a lot more information and if you want to delve further, I'd recommend giving them a click and taking a look. My biggest takeaway from all of this is that Guardians of the Galaxy – Mission: Breakout sounds very cool and feels far more ambitious than the Iron Man Experience attraction that just opened over at Hong Kong Disneyland. As a single experience, it could be memorable and fun and worthy of a long wait in line.
However, Disney theme parks have always been about more than individual rides – they've been about the overall experience of inhabiting a fully designed world that makes sense from an aesthetic point of view. It's going to take some time for me to be totally okay with Guardians of the Galaxy – Mission: Breakout being dropped into an area otherwise themed as the golden age of Hollywood. If Disney plans to expand the area and transform it into a fully realized Marvel land (as everyone suspects), that's fine. In the meantime, Disney nerds have every right to be rightfully irritated by the park's new skyline.
Guardians of the Galaxy – Mission: Breakout is expected to open this summer. I expect it'll be a ton of fun.