'The Lost City Of Z' Trailer: Charlie Hunnam Explores The Unknown With Robert Pattinson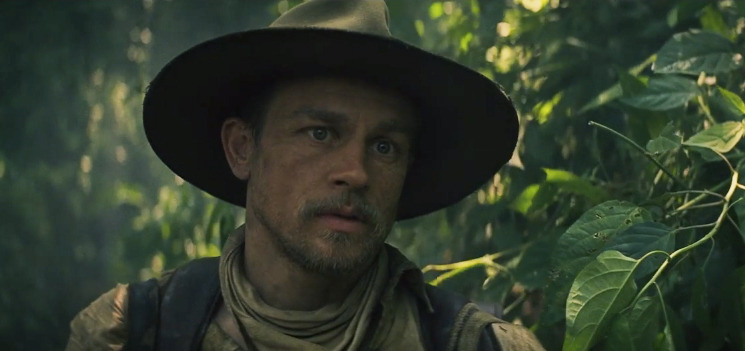 Mankind has always had a predilection towards exploring the unknown, journeying to places that most people have never been and will never go. The Lost City of Z tells the story of a historical expedition taken upon by explorer Percy Fawcett (Charlie Hunnam) as he ventures deep into the uncharted territory of the Amazon jungle in the 1920s. Though he disappeared in 1925 with no official recount of what he discovered, director James Grey imagines what it might have been like, based on the non-fiction bestseller by author David Grann.
Watch a new The Lost City of Z trailer after the jump.
Charlie Hunnam is joined by Robert Pattinson on this journey, and supported by his wife (Sienna Miller) and son (Tom Holland), the latter of which appears to venture out on his own at some point, perhaps to track down his missing father. This looks like quite the adventure, a movie that Hollywood usually doesn't make anymore.
The above trailer comes from the UK where the movie will hit theaters in March, but US audiences will have to wait until April before they can catch it. The Lost City of Z debuted at the New York Film Festival last year, and with the 15 reviews counted online so far, it has an 87% on Rotten Tomatoes, which is rather good. That could always change as more critics see it though.
This is a story that went through a long development process and finally ended up in front of cameras, so hopefully it will have been well worth the wait this spring. If you want to see more, you can watch the first trailer right here.
Based on author David Grann's nonfiction bestseller, The Lost City of Z tells the incredible true story of British explorer Percy Fawcett (Charlie Hunnam), who journeys into the Amazon at the dawn of the 20th century and discovers evidence of a previously unknown, advanced civilization that may have once inhabited the region. Despite being ridiculed by the scientific establishment who regard indigenous populations as "savages," the determined Fawcett – supported by his devoted wife (Sienna Miller), son (Tom Holland) and aide de camp (Robert Pattinson) – returns time and again to his beloved jungle in an attempt to prove his case, culminating in his mysterious disappearance in 1925. An epically-scaled tale of courage and obsession, told in Gray's classic filmmaking style, The Lost City of Z is a stirring tribute to the exploratory spirit and those individuals driven to achieve greatness at any cost.
The Lost City of Z opens in NY and LA on April 14 and expands wider the following week