'House Of Cards' Season 5 Chooses The Right Day To Debut Its First Teaser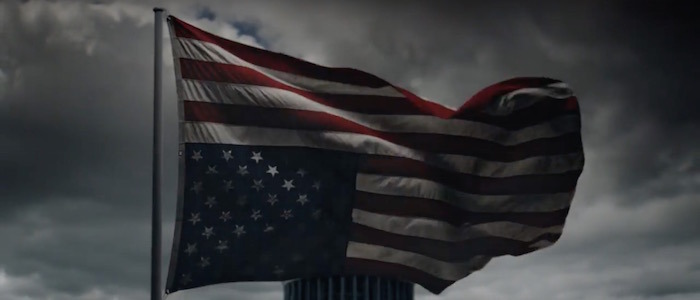 Well, that's one way to celebrate Inauguration Day.
As I type this sentence, Donald Trump is on the cusp of taking the oath of office and becoming the 45th President of the United States, so Netflix saw this as an opportune time to release the first House of Cards season 5 teaser. There is no actual footage here, no glimpse of Kevin Spacey's scheming Frank Underwood – just foreboding imagery, specifically an American flag being flown upside down...a sign of distress.
As someone who has wondered how political shows like House of Cards and Veep would react to the utter insanity of the past year, this teaser offers up evidence that our artists are prepared to directly lean into the chaos rather than circumvent it. The timing of this teaser is surely going to delight bleeding hearts like me in desperate need of something today. And it will probably get a lot of people with egg avatars angrily tweeting at the official Netflix account.
Here's the teaser, which is brief but chilling and reveals a release date of May 30, 2017. Why couldn't The West Wing be the politically-themed television show that somehow became all-too-real?
While I enjoyed the first two seasons of House of Cards just fine, I got bogged down in the middle of the third season and never got around to finishing it. This teaser is a reminder that I should just bite the bullet and get on with it, especially since I've been told that season 4 is a return to form.
It's going to be interesting to see how fans react to House of Cards season 5 since original creator and showrunner Beau Willimon departed the show at the end of last season. Melissa James Gibson and Frank Pugliese, who have worked on the series since season 3, stepped up as the new showrunners and they have an important task: keep Netflix's flagship series humming along smoothly. And I hope they get the job done. We're going to need all the entertainment we can get over the next four years.