'T2 Trainspotting' Early Buzz: Danny Boyle's Middle-Aged Sequel Is A Worthy Follow-Up To A Classic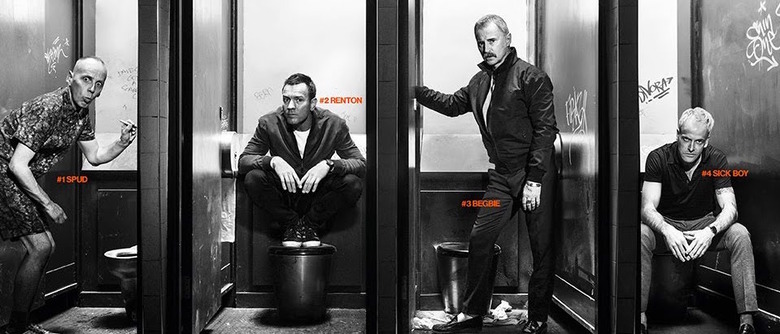 T2 Trainspotting (yes, that's still the title) doesn't start hitting most theaters until February and March, but it will debut in U.K. theaters on January 27, 2017. With that release date right around the corner, the first wave of reviews for Danny Boyle's sequel to his 1996 classic have arrived and they're mixed but mostly positive. We've assembled some highlights below.
As you'd expect, a recurring theme throughout these reviews (even the positive ones) is that the Trainspotting sequel has a hard time living up to the original movie, which was a legit sensation upon initial release. But with the principal cast and crew from the first film all returning, most critics seem to agree that it feels right, with the parade of familiar faces working to harness your nostalgia for the first movie.
While The Guardian's review acknowledges that the sequel isn't quite as good as the first movie, their review is nearly a rave:
T2 isn't as good as T1: it is a little too long and unwinds a bit into caper sentimentality, broad comedy and self-mythologising. But it has the same punchy energy, the same defiant pessimism, and there's nothing around like it. This sequel was a high-wire act, but Boyle has made it to the other side.
Time Out's review notes that the sequel can't help but live in the shadow of its predecessor, but it is otherwise overwhelmingly positive:
Like the original, 'T2 Trainspotting' is a winning mix of low living and high jinx, a stylized spin on real life. Music is just as important, and there are familiar tunes, but the tone is less youthful and more maudlin. It's a darker film, with less humour (although there's a brilliant comic scene in a Unionist club), and it's a little grander: the photography is more epic, the look more grown-up, although there's a familiar anarchy to the visuals.
Scotland's The Herald was also very positive on the film, noting how it builds on what came before:
T2 doesn't just recapture the relentlessly addictive energy of the first film, complete with profane language, outrageous sex and drug scenes and horrific bouts of violence, it displays a greater maturity too; one that lends it unexpected poignancy to match its more bravura moments.
The Independent awarded T2 Trainspotting five stars, heaping tons of praise on the performances:
The actors, meanwhile, are all at the top of their game. McGregor has that wildness and grinning delinquency that made him so memorable in the first film. He gets to deliver a "choose life" soliloquy which is even darker and more despairing than the one from 20 years ago. (Now, the references include zero hour contracts, Facebook, Twitter, reality TV and revenge porn.) Jonny Lee Miller's Simon is charismatic and cretinous by turns. Carlyle manages to make us feel sympathy for Begbie in spite of his monstrous behaviour. As Spud, Bremner plays part of the holy innocent – the only one of the four who isn't venal and self-serving – in appealing comic fashion.
The Telegraph was mixed but ultimately positive on the film, saying that it does nothing to tarnish the original:
Like the original, T2 is happy enough spending time with its characters whatever they get up to. Very little that happens in the film seems to affect where it's going, and the few things that do feel dashed off, almost as an afterthought. It's also littered with callbacks to the first film – some as stirring as they are subtle, others exasperatingly cute.
The Hollywood Reporter was lukewarm in their review, calling out the film for "blokey sentimentality":
But this scene simply dribbles away to nothing, typical of a screenplay which is much too stop-start to generate proper momentum, oscillating between near-slapstick comedy and interludes of blokey sentimentality. There's an awful lot of father-and-son stuff being somewhat sentimentally worked over here, with even lion-in-winter Begbie — an irredeemably demonic force-of-nature in the first film, and in Porno, too — finally succumbing to the schmaltz.
T2 Trainspotting hits North American theaters on March 17, 2017.