'I Don't Feel At Home In This World Anymore' Trailer: Elijah Wood And Melanie Lynskey Go Vigilante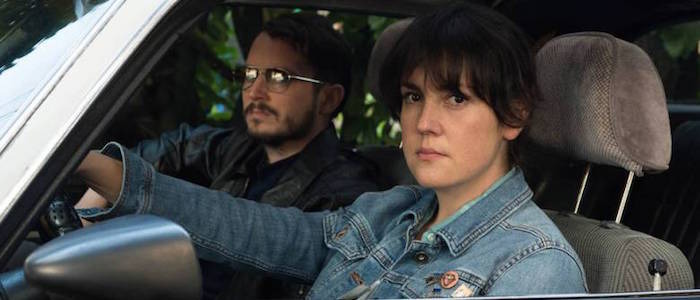 If you've seen the films of Jeremy Saulnier, you know Macon Blair. While he's been in plenty of other movies, Murder Party, Blue Ruin, and Green Room have placed Blair front-and-center, giving him meaty roles and asking him to pull off tricky characters. As a result, he has become one of my favorite actors and I am always delighted when I see him appear on screen.
So it's a little weird to say that I'm looking forward to the new Macon Blair movie while knowing that he's not playing a lead character. That's because I Don't Feel at Home in This World Anymore is Blair's directorial debut and the new trailer has arrived. And wouldn't you know it – it looks really good.
I Don't Feel at Home in This World Anymore is set to premiere at the Sundance Film Festival tonight, but it has already been acquired by Netflix and will hit the streaming service on February 24, 2017. So if you like what you see in the trailer below and if the buzz is strong, you'll only have to wait a few weeks to check it out for yourself.Togetherness star (and Sundance regular) Melanie Lynskey stars as Ruth, a depressed woman who comes home one day to learn that her home has been burglarized. Sick and tired of people acting like jerks all day, every day, she teams up with her next door neighbor (Elijah Wood) to track down the crooks responsible. And then things take a dark turn as they get in way over their heads.
Intentional or not, this trailer reminds me very much of Saulnier's films, where perfectly ordinary people make stupid decisions and end up reaping consequences that feel like they were torn from an offbeat newspaper headline. I suspect and hope that Blair will have his own unique voice as a filmmaker, but there are far worse things to say than "This reminds me of that guy he works with who makes really great movies."
Expect the first wave of buzz about I Don't Feel at Home in This World Anymore to arrive later tonight.
From the producers of Kelly Reichardt's "Certain Women" and Jeremy Saulnier's "Green Room" comes the story of Ruth (Melanie Lynskey), a nursing assistant suffering through a crisis of existential despair. But when her house is burglarized, Ruth discovers a renewed sense of purpose in tracking down the thieves. Accompanied by her obnoxious martial-arts-enthusiast neighbor Tony (Elijah Wood), they soon find themselves dangerously out of their depth against a pack of degenerate criminals.