'Sandy Wexler' Teaser Trailer: Adam Sandler Actually Ruins A Movie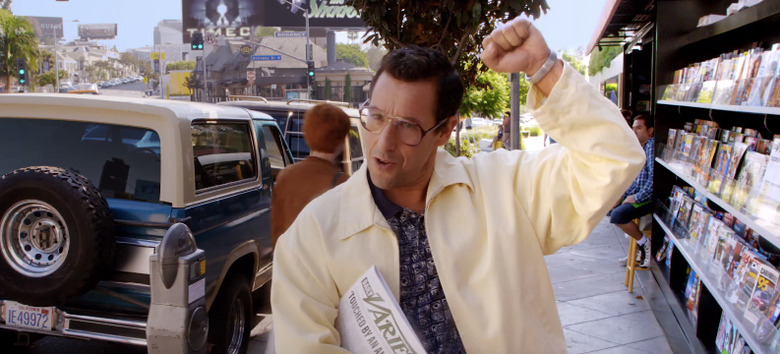 Thanks to his deal at Netflix, we're getting another Adam Sandler movie this year. Hot on the heels of The Ridiculous 6 and The Do-Over, this time Adam Sander is putting on a goofy voice for his latest character, and he's also taking us all the way back in 1994.
Sandy Wexler finds Adam Sandler playing the titular man, a talent manager who works in Los Angeles, but doesn't really seem to fit in with the glitz and glamour the Hollywood scene. You'll see what I mean in the Sandy Wexler teaser trailer after the jump.
Adam Sandler has ruined plenty of movies before, but this is the first time he's actually messed one up in character. Sandy Wexler literally messes up a take of a movie shooting on the streets of Los Angeles. It remains to be seen as to whether Adam Sandler will also ruin this movie in the way he has so many others that he's starred in a long with his ragtag team of comedy actors.
Speaking of which, Sandy Wexler features Sandler's reliable cast of goofballs, including Kevin James (who starred in his own Netflix movie True Memoirs of an International Assassin), Terry Crews, Nick Swardson, Rob Schneider, Lamorne Morris (New Girl), Jane Seymour (Wedding Crashers) and even Arsenio Hall.
But perhaps the most noteworthy cast member is Carl Weathers, reuniting with Adam Sandler after playing golf pro Chubbs Peterson in Happy Gilmore and making a cameo as the same character in Little Nicky. Since Sandy Wexler takes place in 1994, and the title character is a talent agent, it would be pretty funny if one of his clients was Carl Weathers, and Sandy ends up getting him the job on Happy Gilmore, which wouldn't be released until 1996, and thus would be preparing to shoot around the time this movie takes place. It might also allow Adam Sandler an opportunity to poke fun at his early career a bit.
Anyway, here's the official synopsis for Sydney Wexler for those who care:
The film follows Sandy Wexler (Adam Sandler), a talent manager working in Los Angeles in the 1990s, who diligently represents a group of eccentric clients on the fringes of show business. His single-minded devotion is put to the test when he falls in love with his newest client, Courtney Clarke (Academy Award® and Grammy® winner Jennifer Hudson), a tremendously talented singer who he discovers at an amusement park.
The film is directed by Steve Brill (The Do-Over). Paul Sado, Dan Bulla and Adam Sandler wrote the script. Happy Madison Productions' Adam Sandler and Allen Covert serve as producers. Barry Bernardi and Tim Herlihy serve as executive producers.
Sandy Wexler hits Netflix on April 14.