'The Belko Experiment' Trailer: Things Get A Little Messy At The Office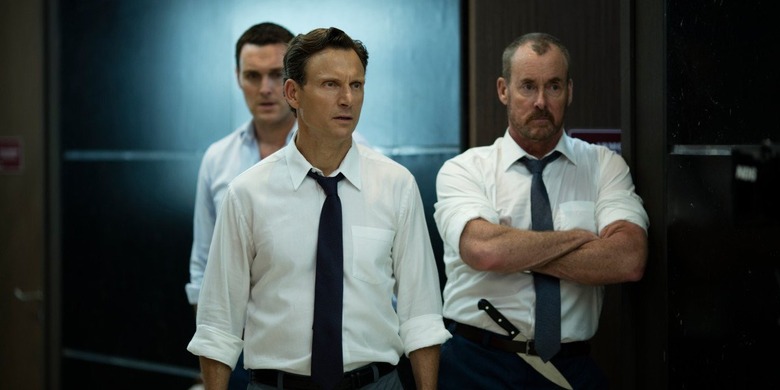 Greg McLean's (Wolf Creek) new thriller, The Belko Experiment, turns co-workers into animals. Written by James Gunn – who is busy with post-production on Guardians of the Galaxy Vol. 2 – the story is a dark, bloody, and violent office comedy. One day, the heads of a non-profit company decide they need 30 employees instead of 80, so they trap their workers, provide them with a deadly ultimatum, and turn them loose on each other.
Below, watch The Belko Experiment trailer.
Gunn has written some dark comedies before, and The Belko Experiment looks like some of his darkest material yet. Some co-workers, even friends, don't seem like they'll stay peaceful for long, including a character played by actor/filmmaker Tony Goldyn. Based on the other trailers, we probably shouldn't expect too many heroes in McLean's film, which co-stars 10 Cloverfield Lane's John Gallagher Jr. as well as Michael Rooker, Sean Gunn, Adria Arjona, John C. McGinley, David Dastmalchian, Melonie Diaz, and Josh Brener.
Here's The Belko Experiment trailer, featuring the wonderful Orion logo:
Whatever John C. McGinley's character's motivation is, he looks like somebody you wouldn't want to bump into on this particular day at the office. For starters, he's John C. McGinley. On top of that, he's John C. McGinley, an actor who has strength, dominance, and intelligence written all over him. He's also incredibly funny, which is just another reason to look forward to seeing him chew on Gunn's writing.
Our own Angie Han saw The Belko Experience when it premiered at the Toronto International Film Festival last year and said that while it's mostly what you'd expected from the premise, it's also very entertaining:
The Belko Experiment has lots of fun getting rid of all these employees. Some die quickly, and some die slowly; some die through more conventional means and others in more creative ways. By the end, both the living and the dead are caked in blood. Through it all, the film maintains a dark sense of humor — it's not laugh-out-loud hilarious, but it does give you permission to howl with glee at all the carnage. The Belko Experiment isn't much more than a good time at the theater, but it isn't really trying to be and doesn't really have to be.
She added John C. McGinley — the one and only John C. McGinley — is well cast as an alpha dog type.
Here's the official synopsis:
On March 17, it's kill or be killed. #BelkoExperiment
In a twisted social experiment, a group of 80 Americans are locked in their high-rise corporate office in Bogata, Colombia and ordered by an unknown voice coming from the company's intercom system to participate in a deadly game of kill or be killed.
The Belko Experiment opens in theaters March 17th.