'Powerless' Trailer: A Show About The Ordinary Schmoes In The DC Universe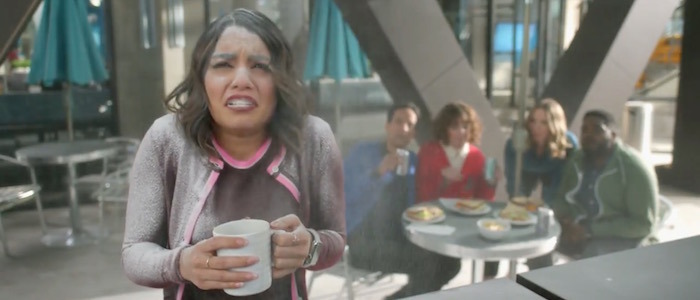 The version of Powerless seen in the newest trailer is a big departure from the pilot that screened at Comic-Con last year. Shortly after that presentation, NBC retooled their comedy series about ordinary people living in the DC comic book universe, with Justin Halpern and Patrick Schumacker stepping in after the departure of original showrunner Ben Queen. A show about the employees of an insurance company specializing in collateral damage caused by superhero brawls became a show about the scientists and engineers who work on technology to protect citizens from those superhero brawls in the first place. Whether or not this change makes for a better show remains to be seen, but you can watch this new footage and start making judgments, should you desire.
Vanessa Hudgens stars as Emily Locke, the Director of Research and Development for Wayne Security, with Danny Pudi, Ron Funches, and Christina Kirk co-starring as members of her team. The invaluable Alan Tudyk plays her awful boss, Van Wayne and yes, he is indeed a distant cousin of Bruce Wayne. His character name is one of many changes the series underwent to deepen its ties to the DC universe and although the big guns are remaining offscreen, the trailer is filled with references to the likes of Wonder Woman and Superman.
And it also looks really silly and lighthearted, more in line with the with The CW's cheerful superhero shows (namely The Flash and Supergirl) than the DC stories being told on the big screen. The trailer is full of pretty obvious gags and slapstick, but the shots of people just trying to go about their days while superheroes and super villains battle overhead are delightful.
While the show has changed significantly since the original pilot, our own Angie Han was pretty fond of what she saw at Comic-Con, writing:
If references were all Powerless had to offer, it'd get old quick. But Powerless also works as a more typical office comedy. Tudyk is the obvious standout in the first episode, as the kind of archnemesis we've all had – the petty boss who believes fear and respect are the same thing. ("I respect spiders," he argues.) Pudi is in his comfort zone as the pop culture-savvy officemate, though I'm hoping his relationship with Emily will develop into something more interesting than the overused "unrequited crush" trope. And the battle at its center works precisely because the fate of the world is never at stake. The good people of Retcon Insurance are just trying to help others like themselves, one check at a time. By dialing the stakes all the way down, Powerless adds a sweet human touch to the superhero genre.
Since one of the major changes made to Powerless was to add more references, I can only hope that the final show can live up to her early impressions. We'll know when the first episode arrives on February 2, 2017. Here's the official synopsis:
Emily Locke lands her dream job as Director of Research and Development for Wayne Security in Charm City, home to super heroes and villains and citizens fed up with the collateral damage of their constant fighting. Full of confidence and big ideas, Emily quickly learns that her aspirations far exceed those of her new boss and officemates, so it will be up to her to lead the team toward their full potential and the realization that you don't need superpowers to be a hero