'Collide' Trailer: Nicholas Hoult Is Fast, Furious, Gone In 60 Seconds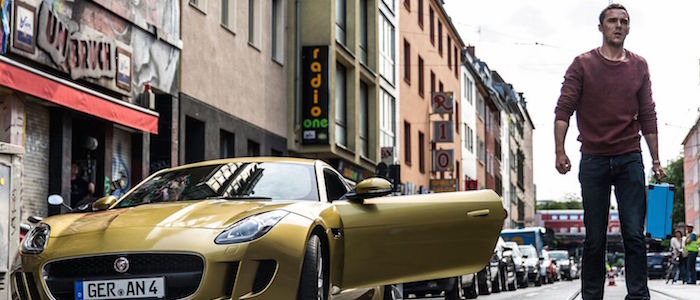 If you feel like you've been seeing trailers for Collide since 2015, you'd be right. Director Eran Creevy's crime thriller was a victim of Relativity Media's bankruptcy and while Open Road Films scooped up the rights, the film has bounced around the release schedule like a ping pong ball in a car accident. After a series of delays (the most recent of which came this month), the film has seemingly settled on release date next month, which means that this new trailer is probably the last one we'll see.
The basic elements on display here are familiar enough. Nicholas Hoult plays a talented criminal who gets on the wrong side of a crime boss (Anthony Hopkins) and must drive really fast across Germany to save his life and the life of his girlfriend (Felicity Jones, so weird to see as a damsel in distress after she kicked so much ass in Rogue One). If you're wondering if Ben Kingsley will also pop up as a trashy crook with an inscrutable accent...ding!
While the set-up won't win any blue ribbons for originality, Collide certainly looks like it could be perfectly entertaining B-movie fast food. If you surround that cast with competently shot car chases, you probably have something worth catching on a lazy afternoon after you've escaped work a little early and want to take advantage of matinee prices. Hell, I'd say this looks like the perfect Redbox rental, if anyone even used Redbox anymore. At the very least, whatever Kinglsey seems to be doing should be worth the price of admission.
Collide opens on February 24, 2017. Here's the official synopsis:
After a heist goes terribly wrong, Casey Stein (Nicholas Hoult) finds himself on the run from a ruthless gang headed by mob boss Hagen (Anthony Hopkins). Now Casey has precious cargo that belongs to Hagen, who will stop at nothing to retrieve it. Left with no choice, Casey calls his former employer and drug smuggler Geran (Ben Kingsley) to protect his long-time girlfriend Juliette before Hagen gets his hands on her. Casey sets out on an adrenaline-fueled car chase on the German highways to save the love of his life before it's too late.