Steven Spielberg's 'Ready Player One' Will Use Motion Capture For OASIS Sequences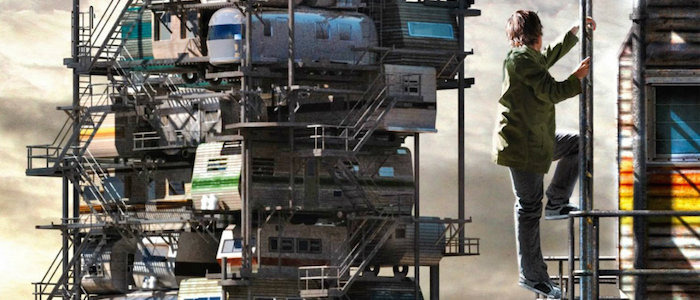 The set of Steven Spielberg's Ready Player One has been pretty quiet aside from a handful of set pictures showing a grungy dystopia where the vast majority of people spend as much time as possible living in a virtual world called the OASIS. Now, we know a little more about how the film will portray this virtual world: it will be created through motion capture and 60% of the film will take place there.
Collider caught up with Tye Sheridan, who plays Wade Watts, an impoverished teenager who sees a way out of his unfortunate situation when the creator of OASIS dies and leaves behind an digital scavenger hunt, with the winner gaining control of his fortune. In Ernest Cline's original novel, this required a vast knowledge of '80s pop culture, although we know that at least some of the references have been trimmed (but certainly not all of them).
Sheridan actually lays out the bulk of the plot while describing the structure of the film, of which a little more than half will take place in OASIS:
60% of the film takes place in this virtual video game and 40% takes place in the real world.
The idea of the film — it's established that this video game this virtual reality game is much more glamorous than the real world; people have jobs inside of this game which is called the OASIS, people spend their lives inside this video game. My character is kind of this loser in the real world, but in this video game the creator of the game dies and leaves behind an easter egg hidden inside of the game that holds his trillions of dollars and control of the game and he says whoever finds it in the game is the person who should take over the OASIS. So five years go by, no one's found the easter egg and — there are three keys in order to get to the easter egg — he's the first one to find the first key. So his avatar becomes famous in the video game, where in the real world he's still kind of this loser, so he's juggling both.
He then goes on to explain that the digital world of OASIS will be created entirely in motion capture, a process that took seven or eight weeks of filming. As for what his in-game avatar, named Parzival, actually looks like, Sheridan can't answer that. All he can say is "I've heard that it doesn't look like myself."
This won't be Spielberg's first time utilizing extensive motion capture. He first used the technology to create 2011's completely animated The Adventures of Tintin (one The Beard's most underrated movies). Last year, mo-cap helped bring a cast of giants to life in The BFG (another one of his more underrated films). It seems like an especially smart choice here – motion capture can create something that is lifelike while being just off enough to feel like a computer simulation.
Ready Player One also stars Mark Rylance, Simon Pegg, Olivia Cooke, T.J. Miller, and Ben Mendelsohn and opens on March 30, 2018.