Watch Damien Chazelle, Barry Jenkins, Mel Gibson And Others Discuss Their Work In An Hour-Long Roundtable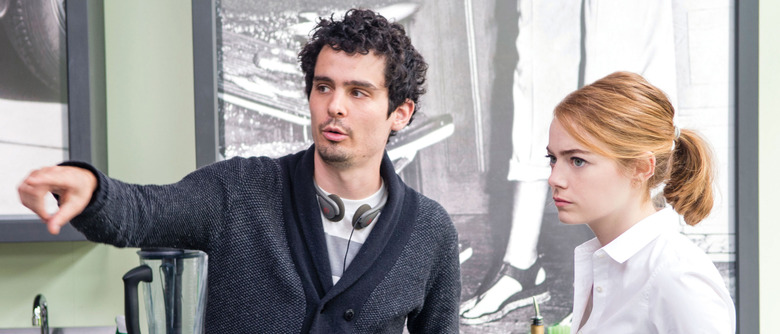 Sometimes, all you need to do is put a bunch of interesting personalities in the same room, turn on the camera, and watch a fascinating conversation unfold. The latest Director Roundtable from The Hollywood reporter finds Damien Chazelle (La La Land), Barry Jenkins (Moonlight), Mel Gibson (Hacksaw Ridge), Denzel Washington (Fences), Oliver Stone (Snowden), and Mira Nair (Queen of Katwe) all talking about their work and it's always fascinating to see such a varied group of talented folks having an upfront chat about their experiences.
Watch the 2017 directors roundtable chat below.
You can watch the full video of the roundtable below or you can head on over to The Hollywood Reporter to read the print version. I especially like this story from Jenkins, where he explains how he stumbled into film school (and into a career in film directing) on something of a whim:
I didn't really want to be a filmmaker growing up. Other than Spike Lee's movies, I would think, "Where is a place for me?" We were so damn poor that it just seemed too far beyond. But I ended up at Florida State University, and when they rebuilt the stadium, they had to put an arts program there [with] the film school. So I'm walking to a football game, and I see a sign that says "film school." I go, "Oh, well, I like movies. Let me try this out." First semester was terrible. I didn't know you needed light to expose film. So I took a year off, and I took a still photography class, started reading Sight & Sound and watching movies. Everybody in film school, the films they made were like [those of] the filmmakers they were obsessed with. A lot of Spielberg knockoffs. I was like, "I want my voice to be different," so I started watching nothing but foreign films. I remember seeing Tarantino's face on the box for Chungking Express, and I was hooked, man, I was just hooked.
And if you ever feel overwhelmed by anything in your life, just know that even Denzel Washington doubted himself the first time he stepped behind the camera:
I had a defeat, and I said, "You know what? I'm out." It wasn't healthy, to be honest with you. And I didn't plan on being a director. Someone gave me a script and forced me to do it. I remember talking with Philippe [Rousselot], the cinematographer, and I was like, "Where do you put the camera?" This is long before we were shooting. He said, "Well, you put it in front." (Laughter.) I thought there was some magic formula. It was a lot of fear when I first directed.
Getting to watch conversations like this may be one of the best side effects of the entire awards season.