'White Men Can't Jump' Remake In The Works From 'Black-Ish' Creator Kenya Barris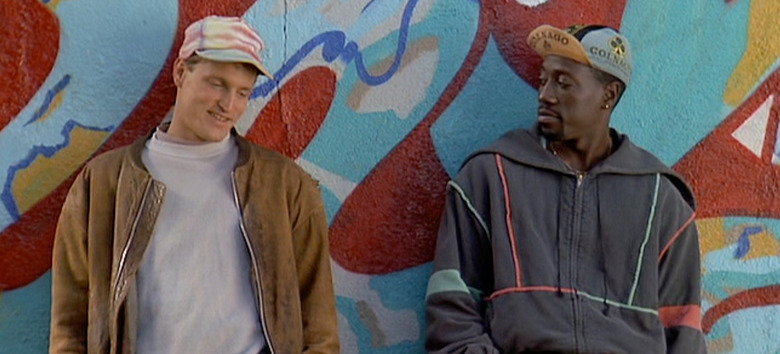 Since Hollywood is remaking and rebooting everything else that hit the big screen in the 1980s and 1990s, it was only a matter of time before they started digging deeper into sports territory.
White Men Can't Jump is one of the best comedies to come out of the 1990s. Written and directed by Ron Shelton (Bull Durham), the film follows Woody Harrelson and Wesley Snipes as two hustling street basketball players who are either trying to swindle each other out of money on the court, or working together to swindle other players out of theirs. Now the 1992 film is getting a remake from Black-ish creator Kenya Barris, and he has a couple of professional athletes helping to make it happen.The Hollywood Reporter reveals that Kenya Barris will write the script for the White Men Can't Jump remake (which he'll also produce) as part of an overall film deal that he struck with 20th Century Fox. But he won't be the only one working behind the scenes to make it happen.
The White Men Can't Jump remake will have some professional athlete influence as the project will also be produced by Los Angeles Clippers player Blake Griffin and North Carolina Panthers football player Ryan Kalil. The two athletes formed a production company called Mortal Media, which is the same company behind The Rocketeer sequel that will have a black female pilot at the center of the story instead.
For those who maybe missed White Men Can't Jump (which will celebrate its 25th anniversary this year), it's a sharp sports comedy featuring some impressive street ball, not to mention a hilarious array of trash talking. In addition, it also features one of Rosie Perez's best performances as Woody Harrelson's girlfriend, who aspires to be on Jeopardy, studying obscure subjects like foods that start with the letter "Q" and whatnot.
As someone who loves the original movie, I'm a little hesitant to be excited about a White Man Can't Jump remake. No one has been clamoring for a remake, and the original is kind of perfect the way it is. Honestly, it all hinges on who they cast in the lead roles. I could see Channing Tatum or Ryan Gosling working pretty well in Woody Harrelson's role, and I would love to see either of them paired with someone like Jerrod Carmichael or Popstar scene-stealer Chris Redd taking over for Wesley Snipes. The most important thing is ensuring that the two have chemistry, both as teammates and adversaries.
This isn't the only remake that Kenya Barris is working on since he's also involved with yet another remake of Shaft. Hopefully the White Men Can't Jump remake is more of a priority since that sounds far more interesting.