'I, Tonya' First Look: Margot Robbie Looks Ready To Hit The Ice, Break Some Legs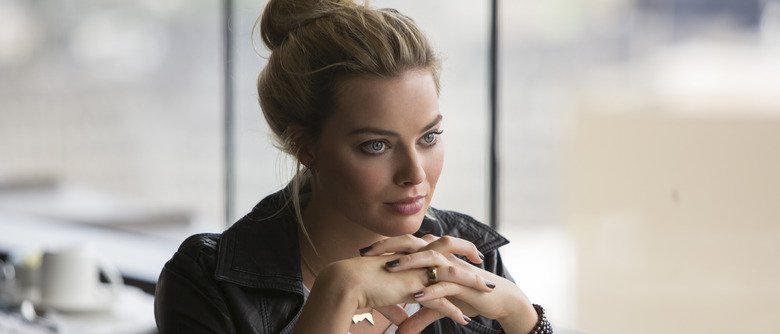 You don't have to care at all about ice skating to find the story of figure skaters Tonya Harding and Nancy Kerrigan to be one of the most jaw-dropping and mesmerizing tales of greed, ambition, and low-rent crime to ever transpire outside of a Coen brothers movie. So yeah, put I, Tonya on your radar, because the always wonderful Margot Robbie will be playing the disgraced Olympian in Craig Gillespie's new movie. Oh, and our first look at Robbie as Harding on the set of the film has arrived.
The photos first appeared on The Today Show and you can check them out in the video player below. While it's not unusual for movie stars to dress down and strip away all pretenses of glamor for a role, the transformation here is definitely convincing. Between that bad early '90s hair and that sweater, Robbie is the spitting image of Harding. Robbie is one of the most talented ladies to arrive on the Hollywood scene in the past few years, so the thought of her playing this character is exciting stuff.
For those of you unfamiliar with the truly bizarre, mostly one-sided feud between Tonya Harding and Nancy Kerrigan, I highly recommend watching Nanette Burstein's 30 For 30 documentary The Price of Gold, which lays out the whole thing in astonishing, "How the hell did this happen?" detail. The short version: Kerrigan was attacked by a man at the 1994 U.S. Figure Skating Championships, who injured her leg and threatened to take her out of contention for the upcoming Winter Olympics. It was soon discovered that the attacker had been hired by Harding's ex-husband, Jeff Gillooly (who will be played by Sebastian Stan in the film). Scandal, filled with reckless ambition and class warfare and sheer pettiness, ensues! You couldn't make this stuff up. It's insane.
I'm very curious how Gillespie and screenwriter Steven Rogers tackle this material, because it could be a straightforward biopic or a pitch-black comedy about bumbling criminals or a genuinely tragic portrait of a talented woman taking a big step into the dream-shattering abyss. Gillespie's filmography, which includes everything from Lars and the Real Girl to Fright Night to Million Dollar Arm, suggests many possibilities.
There is no release date set for I, Tonya, but it's expected to open in 2018. Considering the material, I wouldn't be surprised to see it land an awards-friendly release date later in the year.