'Santa Clarita Diet' Trailer: Drew Barrymore Is An Undead Cannibal And She's Loving It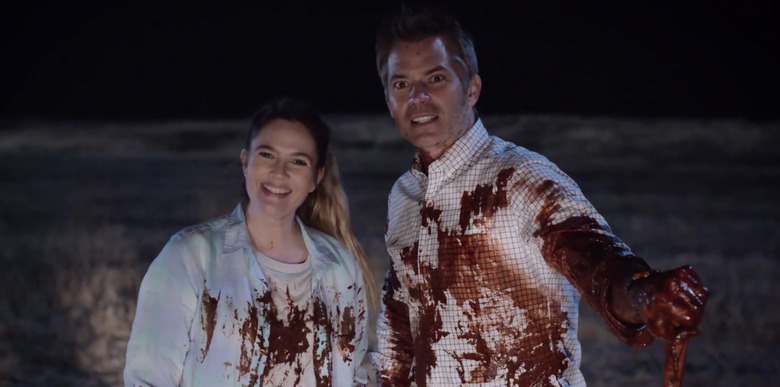 A new Netflix original comedy series is coming to the streaming service next month starring Timothy Olyphant and Drew Barrymore, but it's not exactly what you would expect from either of them.
Santa Clarita Diet might sound like the latest weight loss craze for people to make their New Year's resolutions come to fruition (and the teasers from a little while back certainly played into that). But it's actually the new comedy series that finds Drew Barrymore as a normal suburban woman who happens to have died at some point, and yet has inexplicably kept on living her life, but with one big change: she is now hungry for raw flesh.
As any devoted husband would do, Joel (Timothy Olyphant) decides to help her satisfy her cravings, and her teenage daughter Abby (Liv Hewson) is totally cool with it too. Watch the new Santa Clarita Diet trailer to see how this all shakes out.
Santa Clarita Diet hails from Better Off Ted and Andy Richter Controls the Universe creator Victor Fresco, and you can feel his quirky comedy style coming through, albeit in a much darker way. Honestly, the vibe I'm getting from the show is like a Weeds meets Dexter kind of comedy, or something like the indie Life After Beth. As the trailer says, the family that slays together, stays together, and as long as they can keep finding terrible people to kill and feed to Sheila, everything should be fine, right?
This might be the strangest show that Netflix has created yet. While most of their original programming has firmly had its foot in one genre or the other, this one appears to mix horror and comedy rather successfully. Thankfully the show won't be bound to ratings like normal TV shows, so it should be allowed to get as weird as Fresco wants it to be. Here's hoping it won't be too weird so that Netflix subscribers give it a chance when the first season arrives next month
In Santa Clarita Diet, Joel (Timothy Olyphant) and Sheila (Drew Barrymore) are husband and wife realtors leading vaguely discontented lives in the L.A. suburb of Santa Clarita with their teenaged daughter Abby (Liv Hewson), until Sheila goes through a dramatic change sending their lives down a road of death and destruction...but in a good way.
Santa Clarita Diet hits Netflix February 3.