'Green Lantern': Sterling K. Brown Wants In, Duncan Jones Has Some Suggestions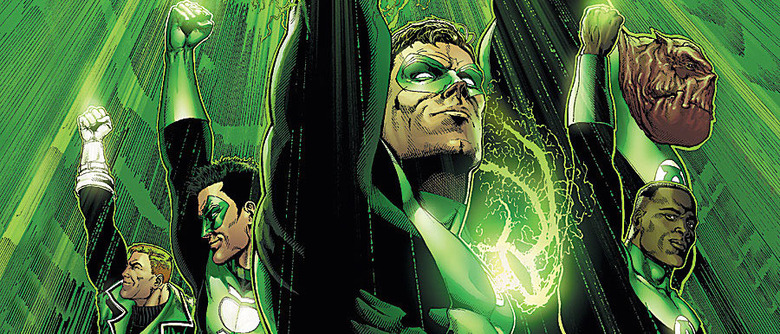 Of all the films on the upcoming DCEU slate, Green Lantern Corps might be the most mysterious. Yes, it's got a release date — and, as of last week, screenwriters — but not much more than that. We don't know who'll direct it, who'll star, or what the story will be.
In the absence of any concrete information, then, let's engage in the time-honored traditions of wishful thinking and wild speculation. First up, actor Sterling K. Brown has also noticed Green Lantern Corps has yet to cast any leads, and would like to throw his hat into the ring. And next, director Duncan Jones — who, to be very clear, is not officially associated with the film in any way that we know of — has some thoughts on how to make the story interesting. 
Let's start with Brown. When we heard last week that David Goyer and Justin Rhodes would be scripting Green Lantern Corps, we also learned that the basic premise was "Lethal Weapon in space," with intergalactic cops Hal Jordan and John Stewart as the leads. A fan brought this to Brown's attention, suggesting he should go out for the role. Brown apparently agreed.
Dear powers that be, if you are looking for someone to play John Stewart, I humbly submit my name. Namaste🙏🏿 #GreenLanternCorps https://t.co/1DTshcKS5M

— Sterling K Brown (@SterlingKBrown) January 13, 2017
Brown just recently joined the Marvel Cinematic Universe with a role in Black Panther, but that shouldn't be a dealbreaker. Indeed, 2011's Green Lantern starred Ryan Reynolds, who was then coming off of X-Men Origins: Wolverine and would return to Fox/Marvel a few years later for Deadpool. The bigger problem with any potential Green Lantern casting is that these online fan campaigns rarely work. But we can hope Brown turns out to be the exception.
Moving on, Jones had a few things to say about how to make a Green Lantern movie work. Considering how unimpressed audiences were by that last Green Lantern, the new team might be able to use the help. Jones' big idea basically comes down to a rule that the Green Lantern ring requires its wearer to come up with an original idea each and every time.
Green Lantern should be about a simple-minded jock who has to come up with imaginative, new ideas every time he uses the ring.

— Duncan Jones (@ManMadeMoon) January 13, 2017
Mechanics & stakes of Green Lantern always bugged me. Ring that can do anything & you have a tough time winning fights? Hero, please!

— Duncan Jones (@ManMadeMoon) January 13, 2017
The hook in the "dumb jock" version of Green Lantern is that he has the power, but lacks the wits to use it. Endearingly frustrating.

— Duncan Jones (@ManMadeMoon) January 13, 2017
That limitation sounds like a fun idea in general, but will it work for a Green Lantern movie? Either way, we'll probably never get to find out. Because, as Jones was quick to clarify, he is not working on Green Lantern Corps. "I think he's dumb," he confessed. "Hope someone proves me wrong."
Green Lantern Corps is currently scheduled for July 24, 2020.