LOL: Woody Harrelson's Famous Friends Don't Believe His Live Movie Is Going To Work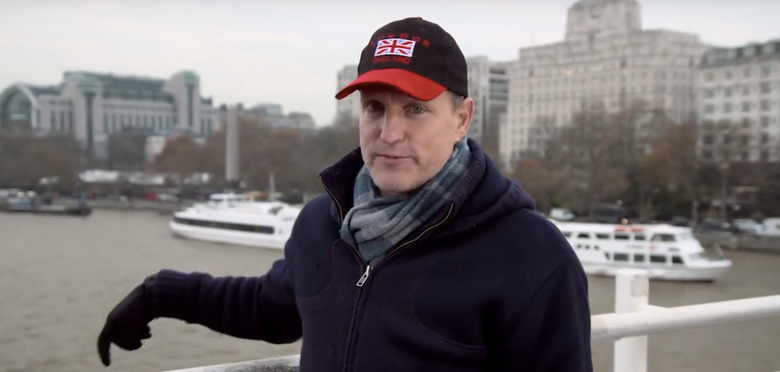 Before we see Woody Harrelson take Caesar and the rest of his super-intelligent simian army in War for the Planet of the Apes this summer, he's taking on an equally daunting endeavor: shooting the world's first live movie.
Lost in London is an ambitious project that will have Woody Harrelson directing and starring in a movie that will be live-streamed into theaters as it's shot on-location in London this week on January 19th. If you think that sounds like a crazy idea, don't worry, because all of Woody Harrelson's famous friends don't believe he can pull it off.Jennifer Lawrence, Matthew McConaughey, Liam Hemsworth, Ted Danson, Jesse Eisenberg, Justin Timberlake and more all roast Woody Harrelson, mocking his cinematic experiment. Watch all of these people and more roast Woody Harrelson's live movie.
With friends like these, who needs enemies? Surely they're all fully supportive of Woody Harrelson's wild idea, despite what they said for Vanity Fair's fun video. At the very least, if it doesn't work out smoothly, it will be spectacular to see as an attempt. You certainly can't knock Harrelson for wanting to try something as difficult as this.
You'll be able to see if Woody Harrelson's ambitious project works out when it's broadcast into theaters on January 19th at 9pm ET/6pm PT, followed by a Q&A with Harrelson after it's all over. You can find all the theaters hosting the live stream right here.
Sadly, we don't be able to see how this plays out, because we'll be in Park City, Utah preparing to cover the Sundance Film Festival kicking off later this week. But we wish Woody Harrelson the best of luck. If all goes well, maybe the movie will get released on DVD and we'll all get to see how it worked out anyway. And if it fails, well, Woody Harrelson still has Star Wars to fall back on.