Tom Hardy Wants Christopher Nolan To Direct James Bond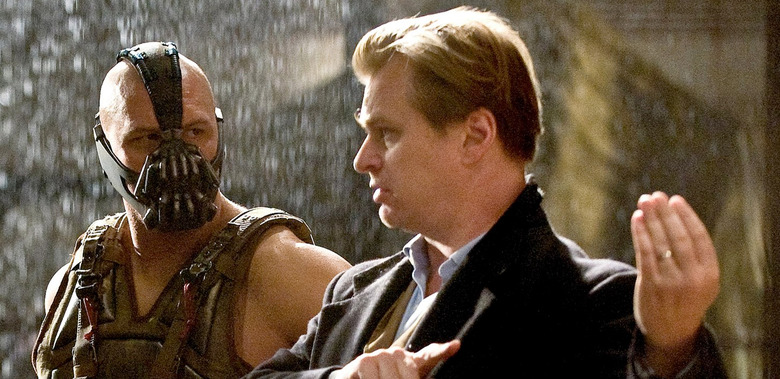 Last fall, there was a lot of buzz regarding whether or not Daniel Craig would eventually return to the role of James Bond. The actor was rather vocal about how exhausting the work on Spectre was, going so far as to say that he'd rather slash his wrists than do another James Bond movie at that time. Since then, he's equated his answer to being the same he would give if someone asked him to run a marathon after just finishing another marathon, reiterating that he loves playing James Bond.
As of last year, Daniel Craig was still the first choice to play James Bond, according to the franchise executive producer, but that didn't stop rumors from swirling about a possible replacement. One of those names was Tom Hardy, and in a recent interview he was hesitant to address any truth to those rumors simply because of his own personal philosophy. However, he had no problem putting forth his choice to direct a James Bond film: Christopher Nolan.
Find out what Tom Hardy had to say about Christopher Nolan directing James Bond after the jump.
Speaking with The Daily Beast, Tom Hardy was asked if he would like to take up the mantle of 007. Here's what he had to say:
You know, there's a saying amongst us in the fraternity of acting, and in the fellowship of my peer group, that if you talk about it you're automatically out of the race. So I can't possibly comment on that one! If I mention it, it's gone. But Chris Nolan, what a fantastic director for a Bond movie. Because Daniel is so good, and what [Sam] Mendes and Barbara [Broccoli] have done has been so impressive, that it would be a very hard re-imagination to follow after. I wonder what the next installment of that franchise would become, and I think when you mention someone like Christopher Nolan, that's a very powerful figure to bring into that world who could bring something new and create something profound...again.
After crafting The Dark Knight trilogy, I wonder if Christopher Nolan has any interest in getting back into franchise filmmaking. Then again, there was a rumor he was having informal talks about tackling a James Bond movie back in 2013, so it might not be outside of the realm of possibility. Forbes even hypothesized that the rights to James Bond could head to Warner Bros., where Christopher Nolan is pretty comfortable. If this is a franchise that allows him to reinvent James Bond in his own way, similar to what he did with Batman, then it might be appealing to Nolan as a filmmaker.
There's no indication as to when we might find out what's happening with the 25th installment of the James Bond franchise, but if Christopher Nolan were to direct, seeing Tom Hardy as James Bond would certainly be an interesting prospect. And since Hardy's superstitions are keeping him from talking about it, he probably wouldn't mind applying for a license to kill with Nolan at the helm.
Would you like to see Christopher Nolan direct a James Bond movie with Tom Hardy?