'Their Finest' Trailer: Gemma Arterton Fights World War II (And Sexism) With Screenwriting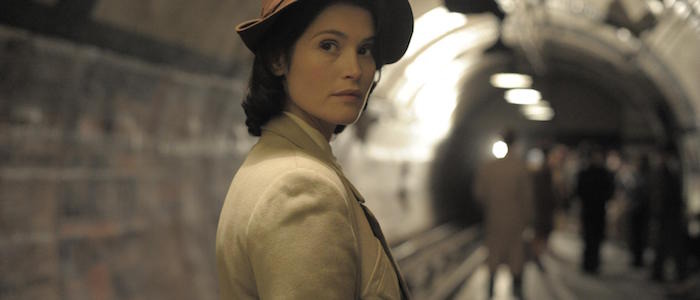 The trailer for Their Finest is selling a movie that looks to scratch a number of very specific itches. It looks like a war movie about life in England during the London Blitz, when air raids by German planes were a daily fact of life. It looks like a movie about institutionalized sexism, as Gemma Arterton's character struggles to make her name in a male-dominated industry. And since that industry is film and she's working as a screenwriter, it also looks like a movie about the power of cinema and how a great movie can harness the hearts and minds of nations. Can that blend work? I certainly hope so, because there's a lot to like in this preview.
Directed by Lone Scherfig (whose 2009 film An Education remains a personal favorite of mine), Their Finest made its debut at the Toronto International Film Festival last year and will be part of the programming line-up at the Sundance Film Festival this month. The film stars Arterton as a screenwriter tasked with penning a movie that will help influence Americans to join the war effort, with Sam Claflin, Billy Nighy, Jack Huston, Jake Lacy, Richard E. Grant, Henry Goodman, Helen McCrory, and Claudia Jessie all filling out the supporting roles. Here's the trailer:
Interestingly, the film at the center of this movie appears to be about the Dunkirk evacuation, the strategic retreat where hundreds of thousands of Allied troops lived to fight another day, the same event chronicled in Christopher Nolan's upcoming film, Dunkirk. Maybe someone should program a double feature?
Their Finest opens in the United Kingdom on April 21, 2017 and in the United States on March 24, 2017. Here's the official synopsis:
1940, London, the Blitz; with the country's morale at stake, Catrin (Gemma Arterton), an untried screenwriter, and a makeshift cast and crew, work under fire to make a film to lift the nation's flagging spirits; and inspire America to join the war. Partnered alongside fellow screenwriter, Buckley (Sam Claflin) and eccentric actor Ambrose Hilliard (Bill Nighy), the trio set off to make a film that will warm the hearts of the nation and capture the imagination of the American population.