'Snatch' TV Series Trailer: Rupert Grint Navigates The Sketchy London Underground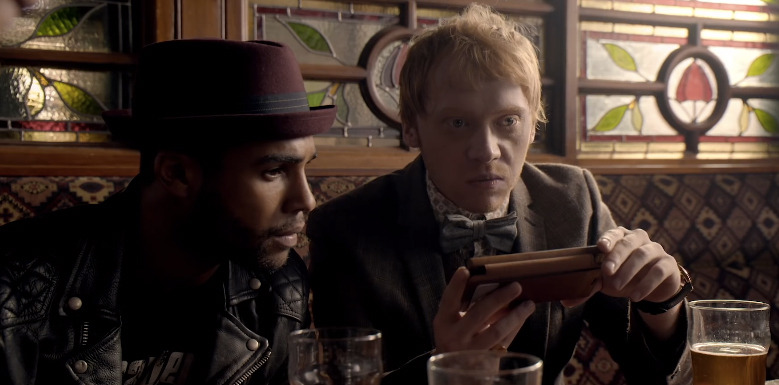 Though most of Hollywood is interested in remaking, rebooting or retooling the highest rated TV shows and highest grossing blockbusters franchises, some attention is being paid to giving the treatment to cult classic titles. Such is the case with a series adaptation of Guy Ritchie's crime comedy Snatch.
Snatch has been turned into a 10-episode series at Sony's free streaming service Crackle (the same company behind Jerry Seinfeld's Comedians in Cars Getting Coffee and the Joe Dirt sequel no one asked for). It doesn't follow the same story as the movie, but it tries to capture the spirit and style with the chronicle of a real life heist that happened in London. It also features Harry Potter franchise star Rupert Grint and Gossip Girl heartthrob Ed Westwick in the ensemble cast, but will it be enough to get people to watch?
Check out the Snatch TV series trailer below and decide for yourself, but beware it's slightly NSFW.
While the trailer does feature some signature elements of Guy Ritchie's movie, there's something about it that's just not clicking in the same way for me. It might be because it looks a little more polished than the movie, missing that gritty, grimy feel of Guy Ritchie's production design. Or maybe it's because the humor and storytelling style doesn't feel quite as edgy.
The good news is that showrunner Alex De Rakoff did get the blessing from Guy Ritchie, though with one condition that will have to be determined by viewers. De Rakoff explained at the Television Critics Association winter press tour recently (via Nerdist):
"I've known Guy for a long time so when I was approached by Crackle to look at this I went to him and said, 'How do you feel about it? Do I do it?' And he said, 'Yeah, if it's f–king good.' And that was the end of it. I took that on and worked tirelessly ever since to try and do something that in some way holds up to the standard of the original film."
He also explained that while the series is loosely based on the movie, they wanted to set out and do something on their own. Again, I find myself asking why Crackle didn't just craft an original series instead of coasting on the name of a revered cult classic, but we all know the answer to that question.
In addition to Rupert Grint (who also executive producers the series) and Ed Westwick, the series also stars Luke Pasqualino (Skins), Lucien Laviscount (Scream Queens), Dougray Scott (Fear the Walking Dead), Phoebe Dynevor (The Village) and Juliet Aubrey (The Infiltrator).
Inspired by a real life heist in London, "Snatch," centers on a group of twenty-something, up and coming hustlers who stumble upon a truck load of stolen gold bullion and are suddenly thrust into the high-stakes world of organized crime. The boys must quickly learn to navigate the treacherous waters of London's underworld as rogue cops, gypsy fighters, international mobsters and local villains descend.
Snatch hits Crackle on March 16.