'The Founder' Featurette: Everyone Loves Michael Keaton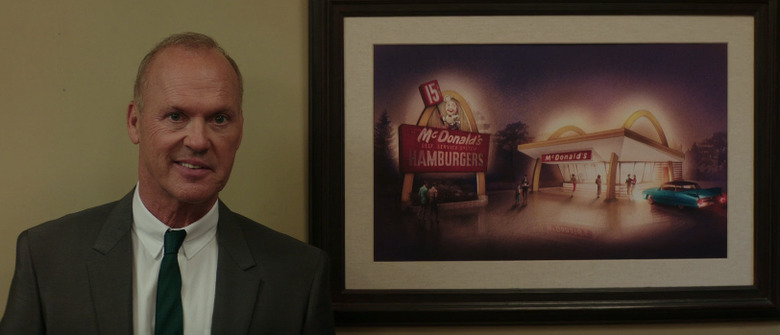 Next week brings the wide release of The Founder to theaters across the nation. Michael Keaton stars in the movie as Ray Kroc, the man who took a family-owned burger diner in Southern California and turned it into the fast food empire known as McDonald's, and he has some awards buzz for a potential Oscar nomination.
If there was any doubt about what he pours into this performance, a new featurette for The Founder has been released, focusing on Michael Keaton and just how much the director, producers and fellow cast members love him. Plus, there's a bunch of new footage from the movie showcasing Keaton's performance. Watch The Founder featurette after the jump.
Michael Keaton has enjoyed quite the resurgence in his career in the past few years. His comeback seems to have started after two key supporting roles in The Other Guys and Toy Story 3. Since then he's still appeared in some duds like Need for Speed and the remake of RoboCop (though he was still good in those movies), but his turns in both Birdman and Spotlight have solidified him as being back a big way. Now with The Founder this year, there's a chance he could finally get an Oscar.
Just listening to everyone in this featurette praise Michael Keaton reminds me of how happy I am that he's at the top of his game again. Keaton will always be my Batman, and I've loved countless movies of his, from Mr. Mom to Multiplicity, the latter being a sorely underrated comedy. I'm hoping that his performance in The Founder doesn't get overlooked when Oscar nominations are announced on January 24th.
If you want to see more from The Founder, check out the most recently released trailer right here.
Directed by John Lee Hancock (Saving Mr. Banks), The Founder features the true story of how Ray Kroc (Michael Keaton), a struggling salesman from Illinois, met Mac and Dick McDonald, who were running a burger operation in 1950s Southern California. Kroc was impressed by the brothers' speedy system of making the food and saw franchise potential. Writer Robert Siegel (The Wrestler) details how Kroc maneuvered himself into a position to be able to pull the company from the brothers and create a billion-dollar empire. The film also stars Laura Dern as Ray Kroc's first wife Ethel; John Carroll Lynch as Mac McDonald and Nick Offerman as Dick McDonald.
The Founder is in limited release now but opens wide on January 20.