'A Series Of Unfortunate Events' Opening Credits: Neil Patrick Harris Sings You Should All Just Look Away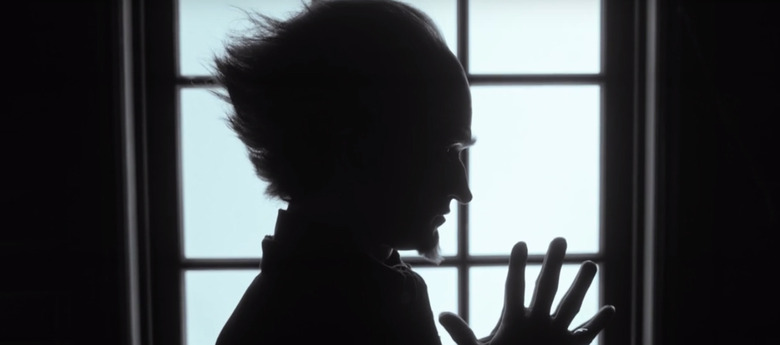 Count Olaf is a terrible actor. Him and his gang of funky villains, his theater troupe, aren't going to win awards anytime soon. Olaf's acting is fairly rotten, but thanks to the talents of Neil Patrick Harris, he has a slightly more tolerable singing voice. Harris sings the theme song in Netflix's adaptation of Lemony Snicket's A Series of Unfortunate Events.
Below, hear the A Series of Unfortunate Events theme song.
Based on author Daniel Handler's 13-part series, season one of Netflix's adaptation is now available to stream. Season one covers four books from the series, starting with "The Bad Beginning" and ending with "The Miserable Mill." Three seasons in total is Netflix and showrunner Mark Hudis' (True Blood) gameplan. After their parents die in a tragic and mysterious fire, Violet (Malina Weissman), Klaus (Louis Hynes), and Sunny Baudelaire are left in the custody of Count Olaf, who's more interested in stealing their fortune than in raising them.
Here's the A Series of Unfortunate Events opening credits featuring Harris' singing:
Along with the opening credits, Netflix released this warning from Count Olaf:
Hear Count Olaf tell his side of the story... so you may see for yourself how truly horrible he is. pic.twitter.com/q0tFmwP6A3

— A Series of Unfortunate Events (@Unfortunate) January 13, 2017
Most impressive, though, is this clip the streaming service released, featuring clues and what appears to be the handiwork of Violet, an inventor:
Director Barry Sonnenfeld (Men in Black), who was originally attached to the feature film, directed the pilot and executive produced the series, which has gotten great reviews. The critical consensus is the Netflix series is a bit offbeat, darkly funny, and a promising start. We didn't get to see this story completely play out with Jim Carrey as Count Olaf, but based on how well people are already responding to the Netflix series, let's hope we will with Harris as the character. Most critics appear fond of his work as Olaf, and I'm excited to watch the series this weekend to see how he plays the goofy but dangerous man.
Here's the official synopsis:
Dear Viewer,
If you are interested in a story with a happy ending, that story is streaming elsewhere. This story has no happy ending, no happy beginning, and very few happy things in the middle.
Based on the internationally best-selling series of books by Lemony Snicket (aka Daniel Handler) and starring Emmy and Tony Award winner Neil Patrick Harris, A Series of Unfortunate Events recounts the tragic tale of the Baudelaire orphans — Violet, Klaus, and Sunny – whose evil guardian Count Olaf will stop at nothing to get his hands on their inheritance. The siblings must outsmart Olaf at every turn, foiling his many devious plans and disguises, in order to discover clues to their parents' mysterious death.
A Series of Unfortunate Events is now available to stream on Netflix.