'Deadpool' Starts Chasing That Oscar Gold With New Campaign Video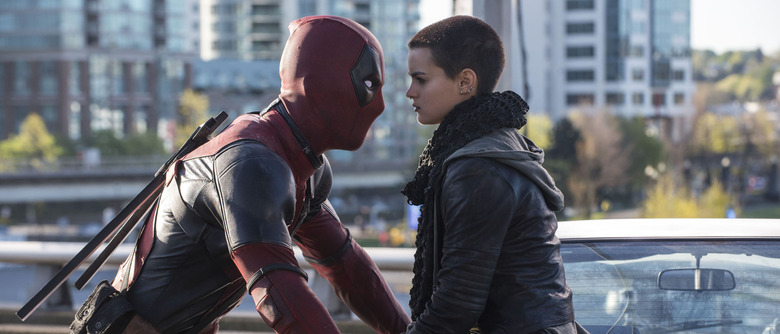 Oh, to be on the internet in 2008, when The Dark Knight was released and everyone decided that this was Peak Superhero Movie and that it was going to shatter that last barrier and get nominated for Best Picture at the Academy Awards. And while Christopher Nolan's (still pretty great!) Batman sequel did get its fair share of Oscar nods, it was shut out of the top prize. Oh, to be on the internet in early 2009, when all of the nerds lost their damn minds in the general direction of Academy voters.
With a few noteworthy exceptions (i.e., James Cameron movies), Academy voters have traditionally relegated more mainstream movies to technical categories. Comic book movies, by their very nature, don't break through. So the fact that I'm writing a news post about Deadpool's Oscar chances blows my brain right out the back of my skull.
It may seem insane that we're even mentioning Deadpool, Tim Miller's crass box office smash that eviscerates superhero movie tropes even as it gives them a big, sloppy kiss, in the same sentence as the Academy Awards, but here we are. It is a Thing That Could Happen. Just look at the Golden Globes, where the film was nominated for Best Picture and Best Actor (albeit in the Musical or Comedy categories). Just look at the Producers Guild of America Awards, where Deadpool was nominated alongside movies like Moonlight, La La Land, and Manchester by the Sea. Look to the Writers Guild of America Awards, where Rhett Reese and Paul Wernick's script was nominated for Adapted Screenplay. The Directors Guild of America even nominated Tim Miller for its first-time director award.
So maybe, just maybe, this silly "For Your Consideration" video revealed on Deadpool star Ryan Reynold's Twitter feed knows what's up.
— Ryan Reynolds (@VancityReynolds) January 13, 2017
Of course, this video is goofy enough to feel like it's just a joke, a parody of other award season advertisements. That's perfectly in Deadpool's wheelhouse.
At the same time, I can't help but wonder: what if this red-suited, mangy dog manages to catch the shiny golden car it's been chasing? What if? I mean, Donald Trump is going to be President of the United States, so I'm done just assuming things. Up is down. Left is right. Deadpool has a long-shot chance at getting nominated for Best Picture at the Oscars? What is this life? What is this world?
The 2017 Oscar nominations will be announced on Tuesday, January 24, 2017.