'Deadpool 2' Will Bring Back Some Of The Merc With A Mouth's Buddies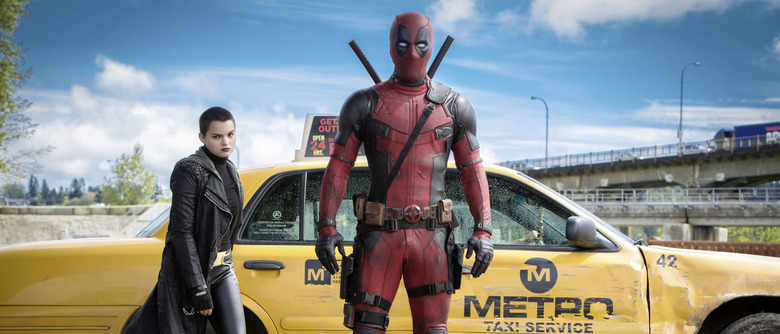 Just yesterday, we learned that Deadpool 2 would still very much be a solo adventure for the Merc with a Mouth. But co-writers Rhett Reese and Paul Wernick did promise that it would still be populated with "a lot of characters." We know that a couple of those characters are supposed to be Marvel Comics favorites Cable and Domino, but there's also room for some of the characters from the first movie to return. So which of Deadpool's supporting cast members will make a comeback in the sequel? Find out below.
The Deadpool 2 cast hasn't really been filled out much beyond the return of Ryan Reynolds as our title character, but we have word straight from Rhett Reese and Paul Wernick about three returning characters from the first movie.
First up, a recent chat with the writers over at Collider had them confirming that the two X-Men known as Colossus and Negasonic Teenage Warhead will both be back. However, it doesn't sound like their roles will be all that big. Here's what Reese and Wernick had to say when asked about the mutants left behind to watch the mansion:
WERNICK: I can't say how much they are...
REESE: I think we can say. Yeah, they'll be in the sequel.
WERNICK: Yeah, they'll make at least an appearance.
With new characters being introduced, there's likely not a lot of screentime to spend with Colossus (who was portrayed by various people) and Negasonic (Brianna Hildebrand) again, but it's good to know they'll be back for some kind of appearance. And they won't be the only Deadpool allies returning.
In a Facebook Live interview with Reese and Wernick with Nerdist (via ComicBook), it was revealed that Wade Wilson's trusty cab driver Dopinder (Karan Soni) would also be back. Wernick revealed the return of this character when he said:
I would say that the relationship between Dopinder and Deadpool was the most fun for me. ... I love that relationship and I love that character. And he'll be in the sequel.
The dialogue between Deadpool and Dopinder was undoubtedly entertaining stuff, including the cab driver taking a bit of a dark turn by kidnapping another man who was vying for a woman that he had his heart set on. It would be nice to know what happened to Dopinder after he ended up in a car accident with that man still in the trunk, and maybe we'll find out the aftermath of that mess in Deadpool 2.
With production slated to start later this year, we'll be learning plenty more about Deadpool 2. At this time, there's no specific release date set for the sequel directed by John Wick helmer David Leitch, but it's expected sometime in 2018.