'The Defenders': First Official Photo Brings Together Daredevil, Jessica Jones, Luke Cage, And Iron Fist
First announced over three years ago, Marvel's The Defenders is finally coming to Netflix this summer. And we've got the first look to prove it. A new promo image brings together Luke Cage (Mike Colter), Jessica Jones (Krysten Ritter), Daredevil (Charlie Cox), and Iron Fist (Finn Jones) for the very first time in their beloved hometown of New York City.
Along with that photo, we've also got new quotes from showrunner Marco Ramirez about how exactly it is the Defenders come to join forces, and Marvel TV head Jeph Loeb on what makes the Defenders different from certain other superhero teams (like the one headquartered just across town at Stark Tower). Check it out below.
The Defenders posed together for the cover of Entertainment Weekly. Luke, Jessica, and Matt look more or less as we've come to expect, but Danny may be the most interesting figure here because we haven't seen nearly as much of him yet.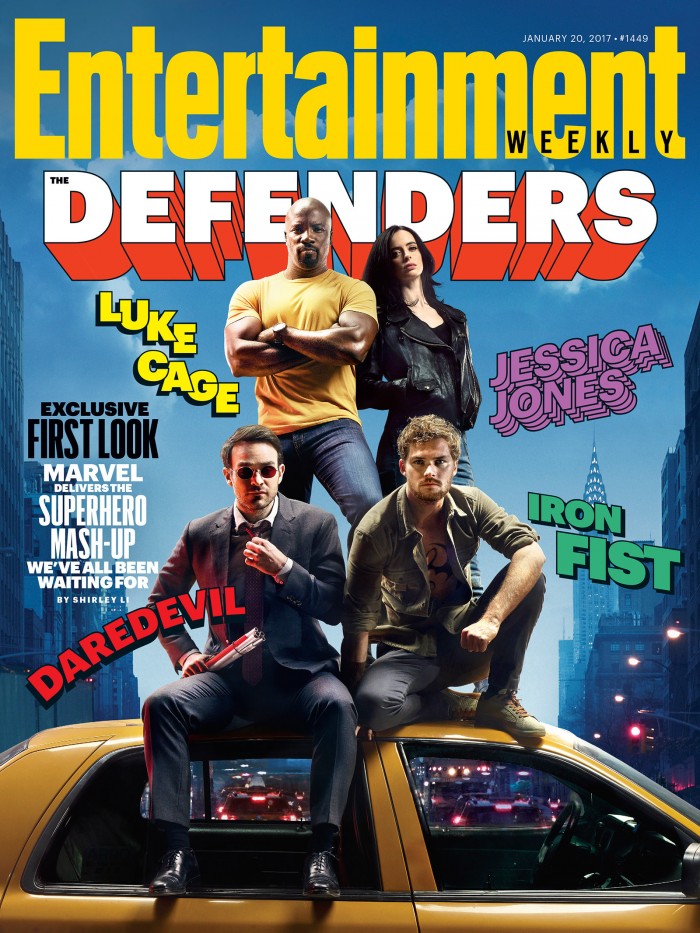 This might look like one of those images where none of the people in it were ever even in the same room at the same time and some poor graphic designer got stuck trying to Photoshop them all together. But a behind-the-scenes video proves they did shoot some photos together, and also provides some commentary about who these people are and what they're all doing together.
It's a lot slicker than the last photo these kids took together, at New York Comic-Con last fall.
With some friends. #Defenders pic.twitter.com/2943u8tjit

— Iron Fist (@MarvelIronFist) October 9, 2016
Each of the individual Defenders seems to be defined, to some extent, by a lone-wolf mentality. And true to form, none of them start out planning a group effort. Ramirez explains:
Every one of them is following their own trail of bread crumbs, trying to unpack a mystery in New York. We wanted them all caught off guard. Once they're in that room together, it's kind of like, 'Oh, s—, who are you?'
Their different paths lead them all to the offices of Midland Circle, where the four of them have to make it through one of Netflix-Marvel's signature hallway fights. That surely helps build some kind of fellowship between them, but Jones says his character is the one who really pushes them forward:
Danny Rand is the one that knows really what's going on. He knows how serious the situation is. Danny Rand, he's the one that kind of drives the group to get **** done, really.
Presumably, the Defenders survive the battle and live to fight another day. (Otherwise, we couldn't get more seasons of any of these shows, and Netflix and Marvel wouldn't want that.) But don't assume this means they'll be eager to team up again. Loeb talked a bit about what sets the Defenders apart from their big-screen, big-scale counterparts, the Avengers:
The Defenders didn't have a 'D' on their belt buckles and a Defenders Tower. We agreed from the very beginning that these folks could at the very end go, 'I never want to see your face again.'
While the Defenders might not be all that jazzed about teaming up, there are lots of Marvel fans who can't get enough of seeing these guys together. Fortunately, there's a new comic coming that should help satisfy those cravings. Marvel Comics announced this week that Iron Fist, Luke Cage, Jessica Jones, and Daredevil will also be partnering in the books, for a brand-new ongoing series by writer Brian Michael Bendis and artist David Marquez.
Although the comics and the TV series take place in completely different continuities, it sounds like they'll share a similar tone. Here's Bendis on what we can expect from the Defenders comic:
I wanted to do a sprawling, Godfather-like epic at the street level of the Marvel Universe, really putting out hooks down and creating a modern, elaborate organized crime story that is different than what has gone before, but builds on everything that has happened to these characters, as individuals or as a team, and putting them in the hardest battle for the street that anyone can imagine.
Get more details on the Defenders comic at THR. The Defenders comic book will launch in June after getting a preview in May for Free Comic Book Day. The Defenders TV series will be on Netflix sometime this summer.